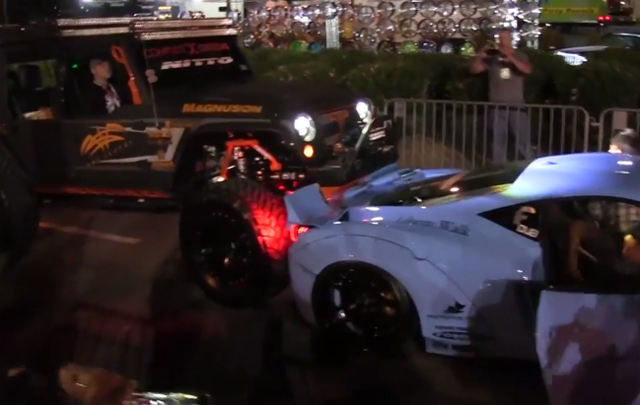 While the highlight of SEMA 2014 was certainly Liberty Walk's widebody Lamborghini Aventador, the Japanese tuning firm did bring along a bright blue widebody 458 Italia as well. Unfortunately however, when leaving the show, the one-off Ferrari 458 Italia was rear-ended by a customised Jeep Wrangler!
The following video doesn't actually capture the moment of impact but it does show the immediate aftermath and the damage which was done. Despite the impact being fairly hefty, not much damage has been done to the car other than the prominent rear bootlid lip spoiler being broken. Of course, it is made out of carbon fibre so it won't be cheap to repair!
[youtube]https://www.youtube.com/watch?v=NkGm_-tBi1w[/youtube]
At the 1 minute mark of the video, the owner of Liberty Walk begins cheering to the crowd clearly not upset about the damage caused!
Beyond the extensive widebody kit featured on this 458 Italia, it includes a custom air suspension system, Forgiato wheels and an Armytrix exhaust.