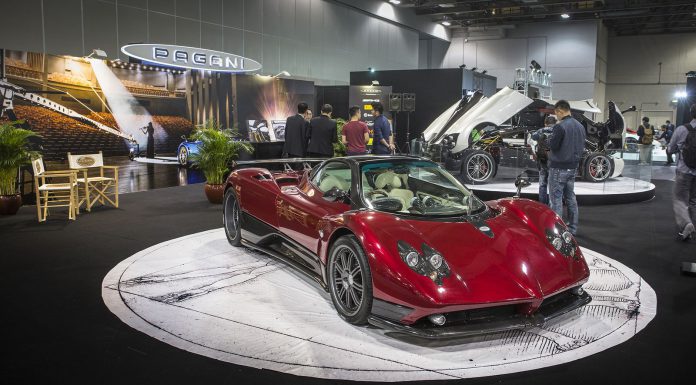 At the ongoing Macau Auto Expo in China, we know that Pagani officially announced it is developing three special Dinastia variants of the potent Huayra specifically for the Chinese market. Our man Ron Alder W Photography was on hand at the show to snap some photos of not only the Huayra Dinastia scale models, but also the life-sized Paganis displayed!
Most notably, Pagani China Automotive Limited's white and carbon fibre Pagani Huayra which we exclusively brought you last month was on display. In addition to the unique pearl white paint scheme, it is particularly noteworthy for the dark red leather interior and has been fitted with the carbon fibre Sonus Faber sound system.
Alongside the white Pagani Huayra was an absolutely gorgeous candy apple red Pagani Zonda F. While sitting alongside the extremely curvaceous Huayra, the Zonda F looked notably understated and was all the better for it!
As for the Pagani Huayra Dinastia, just three examples will be produced and each will be unique. One will be entirely finished in gold carbon fibre making it the only car Pagani has created in such a finish. The other two will utilise blue tinted carbon fibre and red tinted carbon fibre across the vast majority of the hypercar's aerodynamically-formed body. All three examples will feature Dragon graphics across the exterior.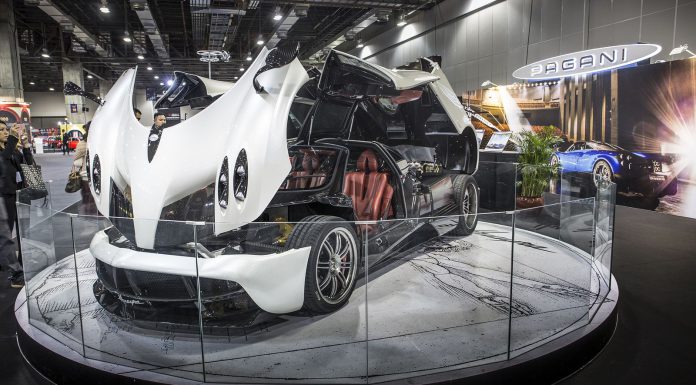 In the cabin, each Pagani Huayra Dinastia will utilise leather matching the colour of the car. Aerodynamically speaking, the Huayra Dinastia will also be unique from other Huayras produced thus far. All three will use a unique aerodynamic fin on the rear decklid somewhat similar to the one featured on the various Zonda 760-series variants. Additionally, the rear diffuser will be tweaked and made even more aggressive. Finally, the front splitter will be modified.