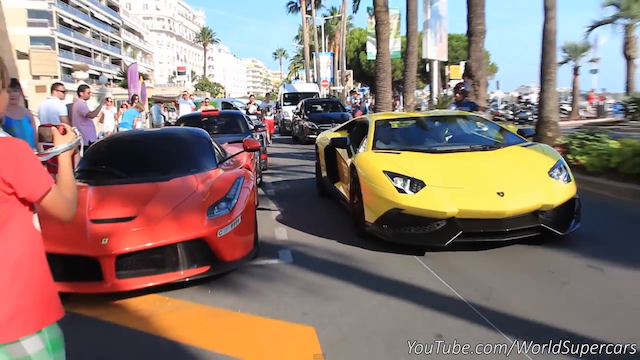 When it comes to Cannes it really is difficult to stand out from the crowd. Supercars tussle for the most prominent parking spaces to show of the latest and greatest cars on the planet.
Lamborghinis are common place, especially Aventadors. The 50th Anniversario, however, is a lot rarer! Here we have a video of a rented example cruising the streets of Cannes.
[youtube]http://youtu.be/u6YfHwn-QJ8[/youtube]
To celebrate its 50th anniversary, Lamborghini created a very special Aventador called the LP720-4 50° Anniversario. The 50th Anniversario features the same 6.5-liter V12 as the standard LP700 but it has been tweaked by the Lamborghini engineers have managed to extract an astronomical 720 hp from it. Zero to 100 km/h is over in the same 2.9 seconds as the LP700 and will carry on howling and pulling to a vision blurring 350 km/h!