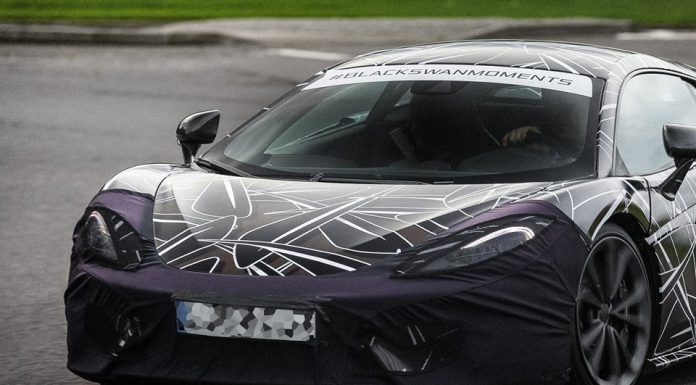 After yesterday's news that the long-awaited 'entry-level' McLaren sports car will be name the McLaren Sport Series, the Woking-based company released the very first teaser image. The photo reveals the front end of a camouflaged mule testing ahead of a planned 2015 second quarter unveil.
The car looks remarkably similar to the current McLaren 650S, although parts are smaller in proportion. The sides reveal a side blade similar to the example found on the top-of-the-range McLaren P1. The nose is heavily camouflaged, although three large air intakes are clear, as are the P1 inspired front headlights!
[youtube]https://www.youtube.com/watch?v=0ff_kV1wqYE[/youtube]
Underneath, expect the McLaren Sport Series to share the same carbon fibre monocoque with a de-tuned twin-turbocharged 3.8 litre V8 hiding out back. It is possible we could see either a China release at the Beijing Motor Show 2015 or a US release at the New York Motor Show 2015.
It is expected that the McLaren Sport Series will feature multiple models. By the end of 2016 McLaren plans to produce 4,000 cars annually. The new Sport Series is likely to go head to head against some pretty stiff competition. The Porsche 911 Turbo, Nissan GT-R, Jaguar F-Type R Coupe and Mercedes-AMG GT are expected to share the same performance bracket.