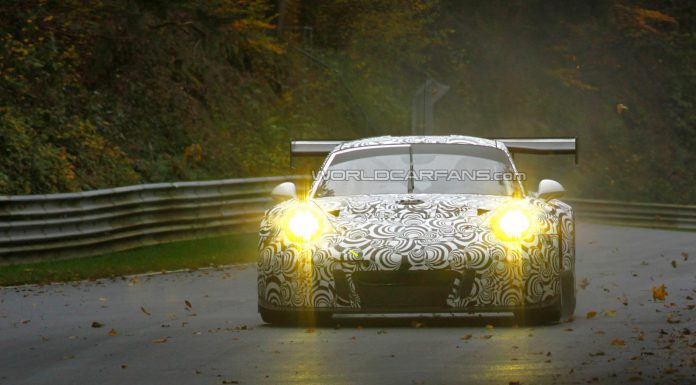 Just yesterday, a prototype of the second-generation Audi R8 LMS Ultra was spied testing in the wet autumn weather of the Nurburgring. Now a brand new 2015 Porsche 911 RSR prototype has been spied testing at the exact same location and once again, under heavy camouflage.
The 2015 Porsche 911 RSR is expected to debut sometime next year and this prototype can be distinguished from the current 911 RSR through a selection of aerodynamic tweaks. For example, this test mule is sporting a larger rear wing, revised side skirts as well as a tweaked rear bumper. Additionally, the car features massively flared wheel arches.
Beneath the skin, the current Porsche 911 RSR makes use of a 4.0-litre boxer engine delivering a thoroughly impressive 470 hp mated to a six-speed sequential transmission. It is likely that the 911 RSR will use the same engine albeit with some mechanical alterations.
[Via World Car Fans]