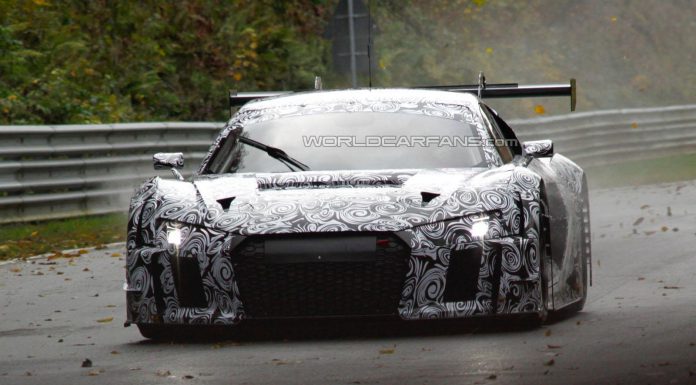 With development of the second-generation Audi R8 well underway, the German manufacturer has just started testing the next-gen Audi R8 LMS Ultra. A heavy camouflage prototype was recently spied testing at where else but the Nurburgring in some rainy, autumn conditions.
As previously spied prototypes for the road-going 2016 Audi R8 have shown, the new R8 LMS Ultra will receive brand new headlights similar in shape to those from the third-generation TT. Additionally, the same rectangular taillights of the road-car will be used. Elsewhere though, virtually all the body panels and elements of the R8 LMS Ultra will be brand new.
For example, this prototype features flared wheel arches, enlarge air intakes on the doors to feed the revised racing engine, thinner wing mirrors as well as a different bonnet with intakes and extractors. Further changes include a brand new rear grille design, a downforce generating diffuser as well as the high, top mounted rear wing.
The existing Audi R8 LMS Ultra uses the R8's range-topping 5.2-litre Lamborghini-derived V10 engine delivering about 570 hp in race trim. We expect a similar horsepower figure for the second-generation R8 LMS Ultra even though the engine will be upgraded and feature brand new internals.
[Via World Car Fans]