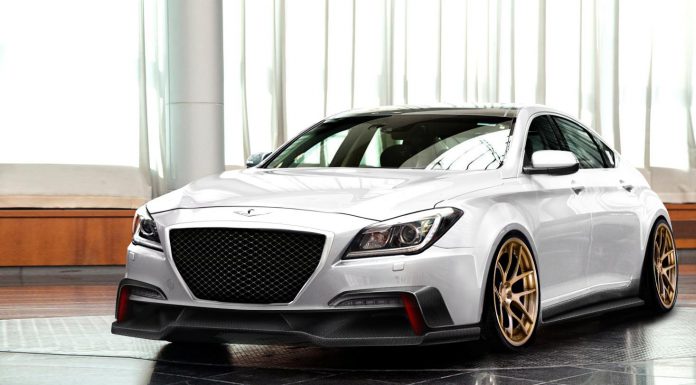 The days of Hyundai's being considered cheap and poorly made are well and truly gone. One of the nicest vehicles currently produced by the brand is the luxurious Genesis sedan which in top specification, features a 5.0-litre V8 engine delivering 420 hp. What would happen if the automaker decided to upgrade the Genesis and turn it into a BMW M5 competitor however?
Well ARK Performance has done just that with their AR550 Genesis unveiled at SEMA 2014. Beneath the skin, the aforementioned 'Tau' 5.0-litre V8 engine has now been fitted with a Rotrex supercharger as well as an ARK free-flow exhaust system. As a result of this, ARK Performance has managed to extract a very impressive 550 hp from the engine. Further upgrades to the end include a new intake, ARK downpipes, a tweaked ECU as well as a race-spec ARK driveshaft.
Elsewhere, the ARK Performance AR550 has been fitted with a new front strut bar, stiffened sway bars both at the front and the rear, an air suspension system from Airrex, new knuckles and control arms, a Brembo big brake kit and ARK lightweight forged wheels. Sticky Nitto NT05 tyres have also been fitted.
To match the serious performance modifications of the car, some extensive visual upgrades have also been implemented. For example, the AR550 features a complete bodykit from Infinite Auto Design which includes an aggressive front bumper and splitter, extended side skirts and a subtle yet eye-catching carbon fibre rear diffuser.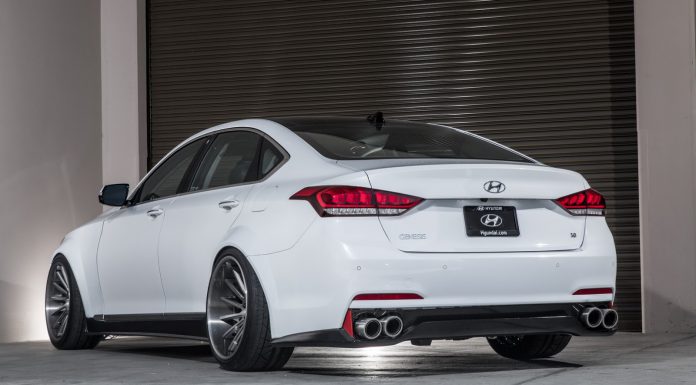 Discussing the car, marketing director at ARK Performance Lerry Liu said, "The AR550 concept focuses on refined performance that integrates directly with Hyundai's 'Design to Empower' vision for the Genesis Sedan. This year we are focused on two core elements all under the new line of ARK Racing (AR) concepts for Hyundai's. First, we focused on the power, handling, and most importantly the sound of the Hyundai power plant. Second, we integrated our high-performance racing technology to introduce a very unique and bold Hyundai vehicle."