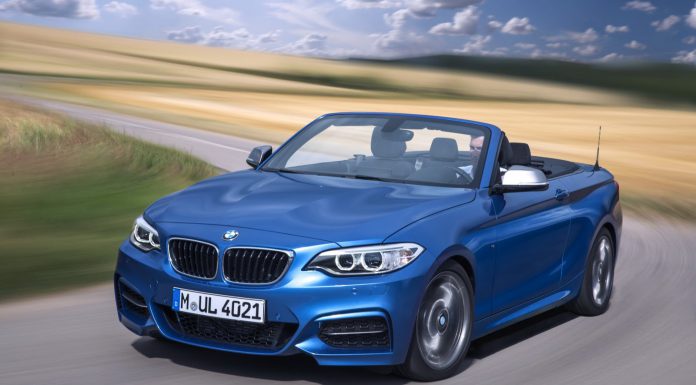 Production of the BMW 2-Series Convertible has just kicked off at the German firm's production facility in Leipzig.
The 2015 BMW 2-Series Convertible of course replaces the 1-Series Convertible and is available in the same 220d, 220i, 228i, 228i xDrive and most importantly, M235i specifications with all (except the 220 models) set to arrive in the U.S. next year. As a result, the convertible models remain essentially mechanically identical to the coupes.
Consequently, the BMW 228i Convertible delivers 240 hp and 255 lb-ft of torque from its small turbocharged 2.0-litre four-cylinder. Consequently, it can reach 96 km/h (60 mph) in a mere 5.7 seconds and comes standard with an eight-speed automatic gearbox. When equipped with the optional all-wheel drive system as the 228i xDrive, the 0-96 km/h sprint will drop to 5.6 seconds with 70 per cent of the power going to the rear and the remaining 30 per cent being sent through the front wheels.
As for the 2015 BMW M235i Convertible, it delivers an identical 320 hp and 330 lb-ft of torque to the coupe. Unlike the 228i Convertible models however, it is available with a six-speed manual transmission in addition to the eight-speed auto. With the latter transmission, it hits 96 km/h in just 4.8 seconds as well as an electronically limited top speed of 250 km/h. When ordered with the manual, that sprint time increases slightly to 5.0 seconds flat.