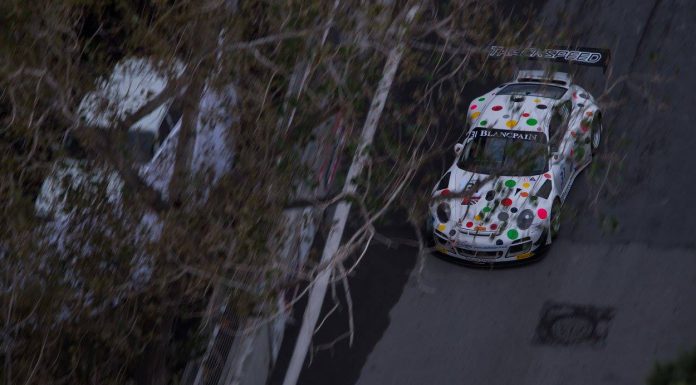 Laurens Vanthoor and Cesar Ramos won the season finale of the 2014 Blancpain Sprint Series during the Baku World Challenge in Azerbaijan. This was their first win of the season after winning four qualifying races without main race wins. This was of course the inaugural season of the Blancpain GT Series which saw title wins awarded for both drivers and manufacturers.
Finishing in second place yesterday was Jonathan Adam and Andy Soucek in the Beechdean Aston Martin V8 Vantage. They fought hard to clinch the top position but the #1 Belgian Audi Club Team WRT Audi R8 LMS was too smart to let the main win float away. The fight for third place was left between Stephane Ortelli in the #9 Belgian Audi Club Team WRT Audi and Markus Winkelhock in the #6 Phoenix Racing Audi. In the end, Winkelhock scooped the podium finish, his first of the season.
The Silver Cup win went to Miguel Toril and Benjamin Hetherington in the Fortec Motorsports Mercedes SLS AMG GT3 while the Pro-Am Trophy win went to another Mercedes SLS AMG GT3 of Alexey Vasilyev and Marko Asmer from the GT Russian Team. For winning the season finale, the Belgian Audi Club Team WRT was awarded with a sum of 100,000 euros!
The Blancpain Sprint Series drivers' title win was to be decided by Maximilian Götz in the #84 HTP Motorsport Mercedes SLS AMG GT3 and the team of Jeroen Bleekemolen and Hari Proczyk in the #28 Grasser Racing Team Lamborghini. The Lamborghini had a perfect start in the main race, running second in the early laps. The same could not be said about Gotz whose car had a damaged rear wing and lost positions gradually.
Gotz's luck showed up with only ten minutes left in the race when the #28 Lamborghini started falling apart. The front bumper collapsed during the race and the car had to pit for repairs losing any chance of clinching the title. Gotz finished in ninth place but with enough points to win him the 2014 Blancpain Sprint Series Championship, after 3 race wins of the season.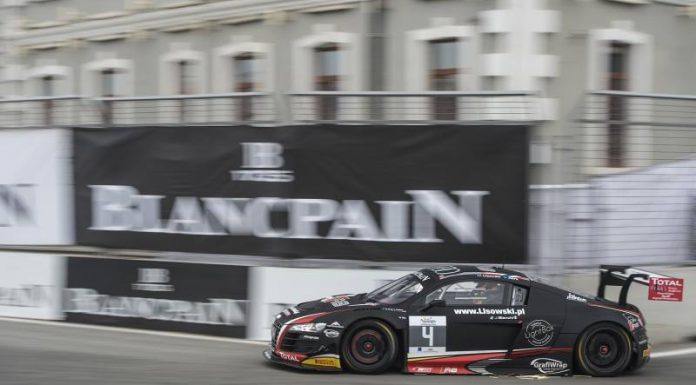 The Blancpain GT Series titles were also decided in the season finale by combining the results from the Endurance and Sprint Series. In this case, Maximilian Buhk and the Belgian Audi Club Team WRT had this covered as they went in the race as series leaders. Buhk however did not win the title as expected, it was Vanthoor's effort that paid in the end while the Belgian Audi Club Team WRT took the teams' title. That meant that both drivers' and teams' titles went to Audi.
Here is a look at the most successful teams in the 2014 season and the cash awards they pocketed:
Belgian Audi Club Team WRT: €386,000
HTP Motorsport: €150,000
Grasser Racing Team: €80,000
Phoenix Racing: €71,000
ROAL Motorsport, BMW Sports Trophy Team Schubert and Beechdean AMR: €50,000
BMW Sports Trophy Team Brasil: €32,000
Results: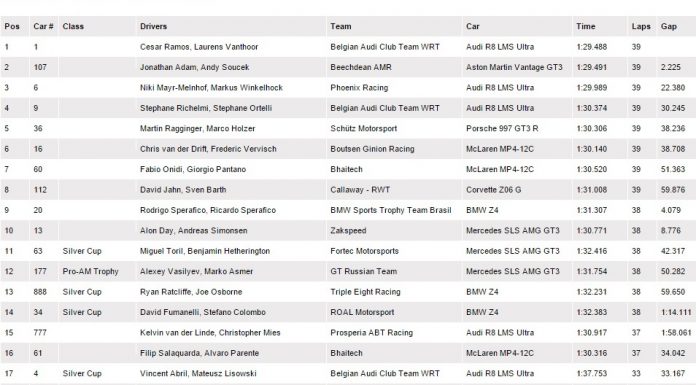 Driver quotes:
Laurens Vanthoor (#1 Belgian Audi Club Team WRT Audi): 'There was some pressure on my shoulders, especially after the unfortunate accident between Rast and Götz. I still had to get a good result and we wanted to win to claim the cheque, so it was not easy to find a way to go fast and not take any risks at the same time. This year we had five victories – unfortunately four of them came in Qualifying Races – and three pole positions. So we worked well, had a good team, but we also made some mistakes and were unlucky sometimes. I am happy we have ended the season in style and with the experience we have now I am sure that Cesar and I could go for the title next year. But with a win in Spa, the Blancpain Endurance Series title and the Blancpain GT Series title I cannot complain about this season.'
Andy Soucek (#107 Beechdean AMR Aston Martin): 'There was a bit of a mix-up at the pit stop, when Jonny came in earlier than expected. We were not really ready and we lost some six, seven seconds. I could get closer to Laurens, but there was not much more I could do. Still, I am very happy with the way our Aston Martin performed, both in Zolder and Baku.'
Markus Winkelhock (#6 Phoenix Racing Audi): "I noticed that Stéphane was struggling with the brakes, just like I was. I tried to push him into making a mistake and when he missed the apex of the corner, I was able to get my car alongside. There was some oil on his side of the track, so I had the grip advantage and could pass him. I am very happy that we can end the season with a podium finish."