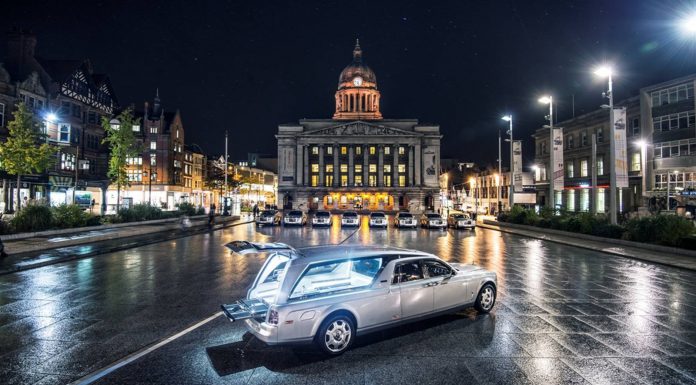 Our good friend GF Williams got the opportunity earlier this week to shoot a brand new Rolls-Royce Phantom Hearse owned by A.W.Lymn The Family Funeral Service. The photos were taken in Nottingham and show the funeral director's 11-strong Rolls-Royce Phantom fleet. A fitting feature for Halloween!
A.W.Lymn are an East Midlands based company, with offices across Nottinghamshire and South Derbyshire. They own a total of 39 Rolls-Royce and Bentley's. The Phantom Hearse is the latest addition, built upon a series 1 platform. The modifications were carried out by Italian company Biemme Special Cars and is thought to be the only Phantom of its type.
The Rolls-Royce Phantom Hearse is finished in silver with contrast silver and custom black fine lines hand painted to the exterior. The front interior is finished in black leather with piano black veneers and black carpets. The coffin compartment features polished stainless steel, crystal glass, fine leather and illuminated highlighting.
The Phantom Hearse also features an automated rear door and coffin platform that opens and closes silently, a portable microphone as part of the highly sophisticated sound system of the vehicle, and the ability to allow funeral services and music to be amplified in any outdoor location.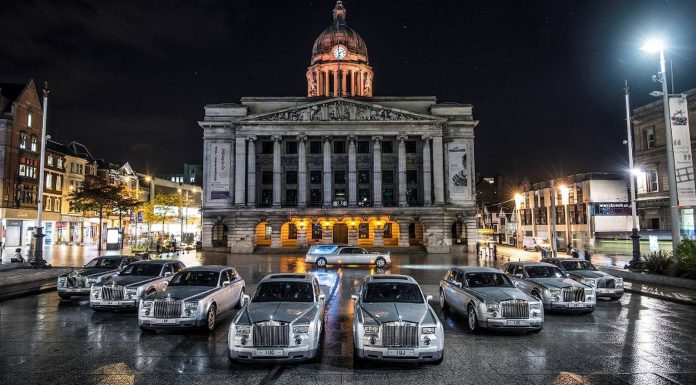 Matthew Lymn Rose, Director of A.W.Lymn The Family Funeral Service, explained:
"This project has taken a number of years to come to fruition and we are very proud to have brought this one of a kind hearse to Nottingham. We were very conscious of the need to ensure that the appearance of the vehicle was complementary to our fleet of Rolls-Royce Phantom saloons. We also firmly believe in my great great grandfathers vision of continually re-investing in the company for the benefit of our clients"
If there was ever a car to carry you to your final resting place, the Rolls Royce Phantom Hearse is that car…