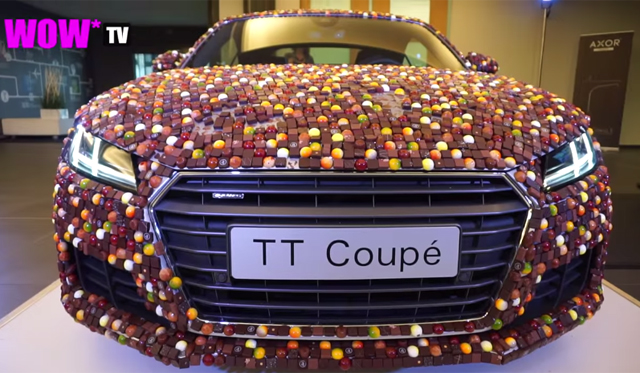 This is a first; a brand new 2015 Audi TT Coupe covered in 27,000 chocolates in Belgium! The car was recently on display at Audi Belgium for a week and in that time, inevitably had people drooling at just the sight of this delicious creation!
All of the chocolates were created by Joost Arijs and to give the car even more panache, a selection of coloured chocolates were also added helping it stand out.
[youtube]https://www.youtube.com/watch?v=xKZHrgsH2YE[/youtube]
As a reminder, the range-topping Audi TTS Roadster comes with an upgraded 2.0-litre TFSI petrol engine. Tuned to deliver a total of 306 hp as well as 280 lb-ft of torque, the 2015 Audi TTS Roadster will sprint to 100 km/h in a respectable 4.9 seconds as well as an electronically limited top speed of 250 km/h.
Elsewhere in the Audi TT Roadster range is the 2.0-litre TDI diesel engine delivering a total of 181 hp and 280 lb-ft of torque as well as a 2.0-litre TFSI pumping out 227 hp and 273 lb-ft of torque sitting in the middle of the range.