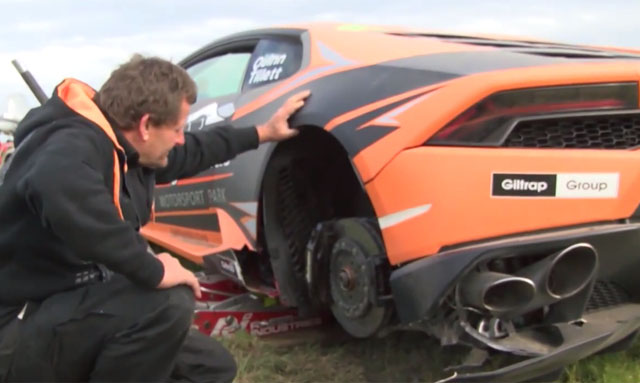 Another Lamborghini Huracan has been damaged following a crash early last month which saw a Huracan destroyed by fire in Hungary. This latest Huracan fell victim to the Targa New Zealand road rally and while repairable, the damage is still quite considerable.
The man behind the wheel of this Huracan was Tony Quinn who has won the event five times in the past. Things started to unravel for the driver and his co-pilot, Naomi Tilett, after reaching a dip in the road at 200 km/h, the potent Italian supercar got airborne and in order to miss a crashed car just up the road, Quinn had to ditch the Huracan into the bushes.
Despite sliding along the tarmac and then the grass, the Huracan didn't roll meaning the two occupants weren't injured. As for damage to the Huracan, its undertray would have taken the brunt of the impact with the left rear wheel also torn from the car. Additionally, the exhaust system has been damaged and it is likely that damage has also been done to the suspension and brake components.