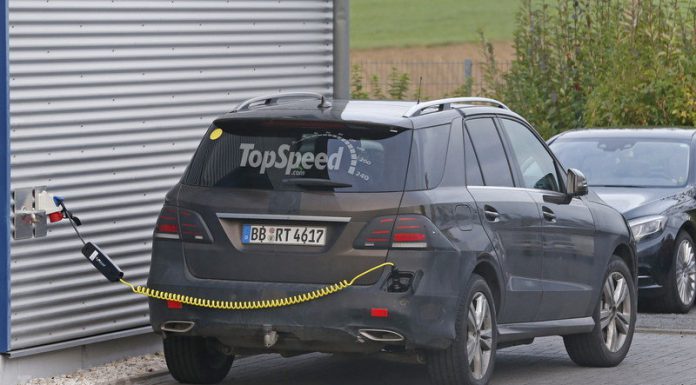 Mercedes-Benz is currently developing the next-generation M-Class set to be dubbed the Mercedes-Benz GLE. Now a prototype of an all new plug-in hybrid variant has been spied testing at the Nurburgring.
Because this is an all-new model, it is hard to say with certainty just what will be powering the Mercedes-Benz GLE Plug-In Hybrid. With that being said, it is likely that it will utilise a small 2.0-litre four-cylinder engine delivering 200 hp. This engine will then be mated to an electric motor pumping out a further 80 hp. Power will then be sent to all four wheels via a seven-speed automatic transmission.
Interestingly at the same time Mercedes-Benz is developing its GLE Plug-In Hybrid, Audi is also created a plug-in derivative for the next-generation Audi Q7. It should deliver a total of 416 hp as well as 435 lb-ft of torque. If Mercedes-Benz does indeed want a competitor to the Q7 Plug-In Hybrid, it is likely power from its GLE will be upped to a similar level.
[Via Top Speed]