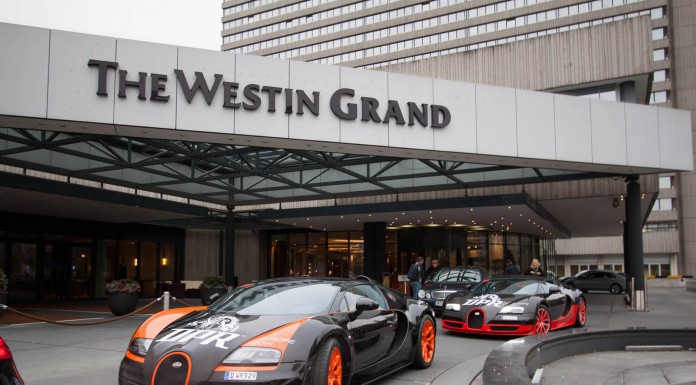 Friend of GTspirit Melanie Meder got to witness two of the three Bugatti Veyron's currently touring Germany as part of the Chinese Dragon Path Rally. The Bugatti's arrived at The Westin Grand hotel this afternoon in Bogenhausen, Munich.
The Veyron's arrived together with a Mercedes-Benz V-Class and a brand new Mercedes-Benz S-Class Coupe. The third Veyron, Aston Martin One-77 and Koenigsegg One:1 were not to be seen, although we suspect they will join the group later today.
The Dragon Path Rally appears to be touring Germany, travelling through a number of big cities and taking in the picturesque German countryside. We're not sure when the rally ends, or even where it is headed next, it is still extremely interesting to see this particular group of Chinese tourists going to such extremes as to register their cars in Germany for the tour!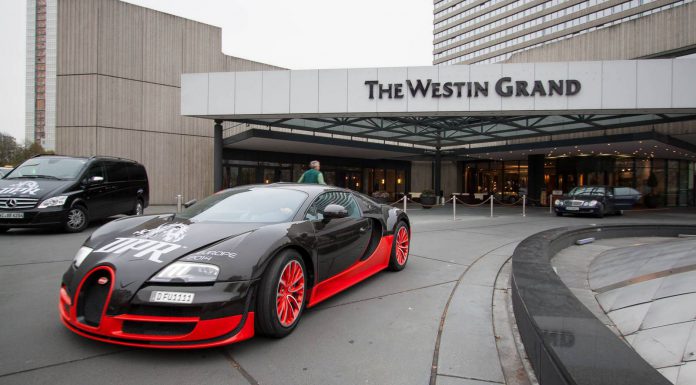 Unfortunately the Koenigsegg One:1 hasn't been spotted for a couple of days. We're hoping that it has just been keeping a low profile rather than suffering from problems. We do know that the group has use of at least one transport truck so it is possible that the One:1 is being transported rather than driven the distance.