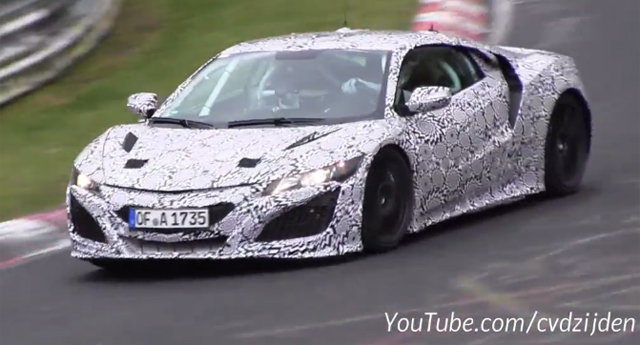 Back in late July, a prototype for the next-generation 2015 Honda NSX caught fire while testing hard at the Nurburgring. Not dissuaded, the Japanese automaker has headed back to the famous German racetrack in a new prototype and is right back into ferociously track-testing the hybrid sports car.
The final details about the engine of the next-gen NSX have yet to be confirmed, but what has been confirmed is that the 2015 Honda NSX will utilise a twin-turbocharged V6 engine displacing either 3.5-liters or 3.7-liters. Unsurprisingly, this new engine will be completely unique to the upcoming NSX and should deliver around 400 hp of its own accord.
[youtube]https://www.youtube.com/watch?v=WHlUcrIiYaw[/youtube]
Joining the twin-turbocharged V6 engine will be three electric motors. In this system, one electric motor is mounted at each front wheel while the third is integrated into the engine and helps drive the rear wheels. These motors are powered by a lithium-ion battery recharged thanks to regenerative braking.
Mated to this powertrain will be a dual-clutch transmission promising to have "more than six gears". At this stage, it is most likely the 2015 Honda NSX will receive a seven-speed gearbox but an eight-speed could also be on the cards.
While recently discussing the car, head of development for the NSX, Ted Klaus, revealed that Honda was targeting the performance of the Ferrari 458 Italia but for Audi R8 money.