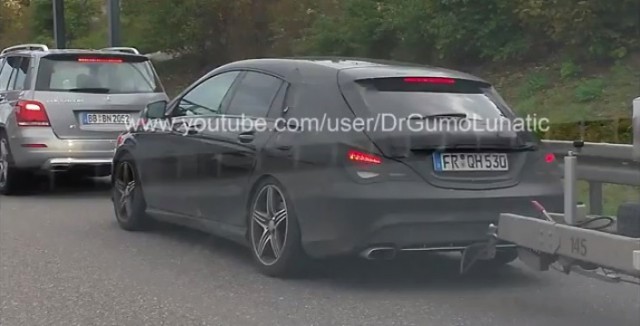 Mercedes-Benz is preparing to put the shooting brake version of its compact CLA-class on sale in January and a barely disguised pre-production prototype has been spotted just outside of Stuttgart in Germany.
Previous spy shots revealed the CLA shooting brake will remain visually identical to the sedan and hatchback models, save for the extended estate-like rear end. We've also seen a pre-production CLA45 AMG version of the shooting brake which appeared nearly production ready from a visual standpoint.
[youtube]http://www.youtube.com/watch?v=uOiX_8uAvCI[/youtube]
The same diesel and gasoline engine options will also be on offer. These include a 109 hp 1.5-liter diesel, a 136 hp 1.8-liter diesel, a 170 hp 2.1-liter diesel, a 122 horsepower and 156 horsepower 1.6-litre petrol and a 211 horsepower 2.0-litre petrol. The AMG version of the CLA Shooting Brake is also expected to remain mechanically similar to the sedan and hatchback variants.
The CLA shooting brake is expected to be revealed in the near future, possibly as early as the Detroit Auto Show in January.