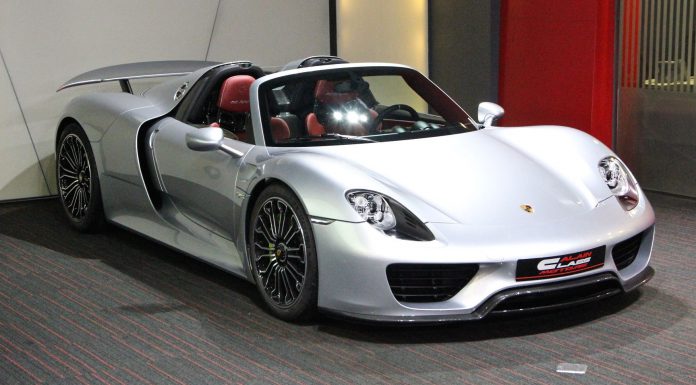 A few months ago, we revealed that two-third of the Porsche 918 Spyder's production run was sold out equating to just over 600 examples. While it remains to be seen just how many examples are yet to be sold, a stunning silver example has popped up for sale from where else but Al Ain Class Motors in Dubai.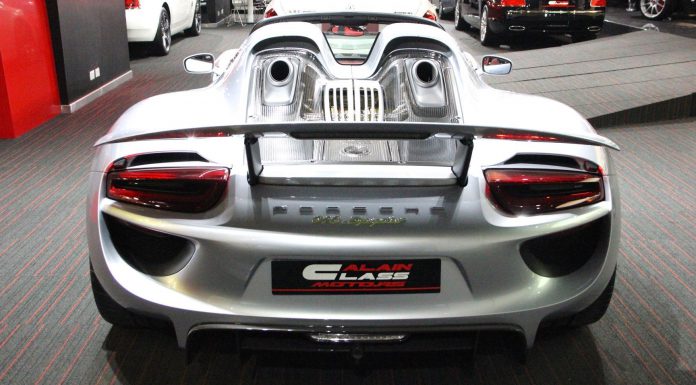 While a price hasn't been listed nor any mileage details provided, the car is inevitably brand new and a very clean example of the 918 Spyder. Unlike some equipped with the optional Weissach package and a custom livery, the following silver 918 Spyder is much simpler and the basic paint scheme really accentuates the flowing lines of the German hybrid hypercar perfectly. This particular example is also fitted with wheels similar to the original Porsche 918 Spyder Concept.
Under the hood, the Porsche 918 Spyder uses a mid-mounted 4.6-litre V8 engine producing 608 hp independently – the highest specific power of any naturally aspirated Porsche engine. The V8 is then supplemented by a further two electric motors mounted on each axle. The electric motors can either drive the wheels independently or work together with the engine to boost performance. Each motor produces enough power to boost the total figure to an amazing 887 hp. A seven-speed Porsche Doppelkupplung (PDK) controls power delivery to the rear wheels.