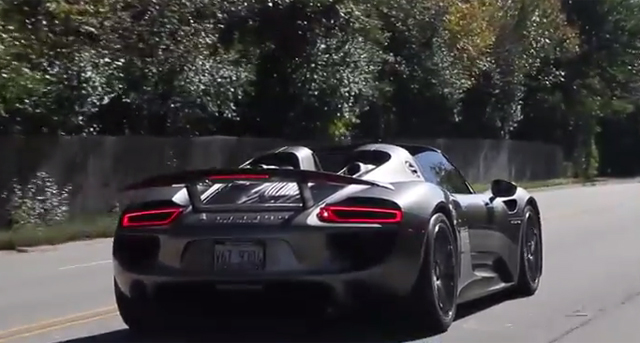 The Porsche 918 Spyder is brutally fast. As a matter of fact, one track test has seen it reach 96 km/h (60 mph) in an incredible 2.2 seconds! Now that customer deliveries of the German hybrid hypercar are well underway, examples are being spotted on the street all around the world and one was recently filmed accelerating ferociously in Chicago!
[youtube]https://www.youtube.com/watch?v=k0G52xo66Jg[/youtube]
The 1-minute long video shows a full throttle acceleration run from a set of traffic lights as well as a few bursts of the throttle while going around corners. The traffic light run is an all-out show of power from the car with the launch control making wheel spin virtually non-existent!
Under the hood, the Porsche 918 Spyder uses a mid-mounted 4.6-litre V8 engine producing 608 hp independently – the highest specific power of any naturally aspirated Porsche engine. The V8 is then supplemented by a further two electric motors mounted on each axle. The electric motors can either drive the wheels independently or work together with the engine to boost performance. Each motor produces enough power to boost the total figure to an amazing 887 hp. A seven-speed Porsche Doppelkupplung (PDK) controls power delivery to the rear wheels.