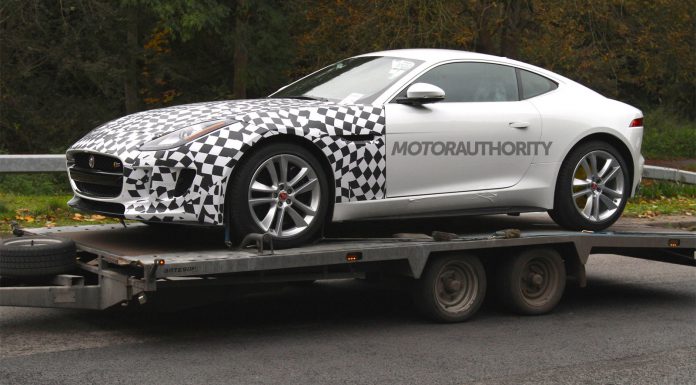 A new prototype for the upcoming Jaguar F-Type equipped with an all-wheel drive system has been spied on the back of a trailer with minimal camouflage. This latest spy shot comes just a few days after additional details about the new F-Type variant emerged online.
Apparently the all-wheel drive system will debut at the Los Angeles Auto Show 2014 next month, exactly one year after the F-Type Coupe was launched. Jaguar is apparently working on such a setup to rival all-wheel drive equipped Porsche 911 models while also helping sales across North America and countries in Europe which encounter cold winters.
This particular prototype can be identified as one with an all-wheel drive system as its front end is slightly raised to accommodate the new driveshafts and differentials.
It remains to be seen which variants of the F-Type line-up will be available with the system but we wouldn't be at all surprised if the V6, V6 S, V8 S and R Coupe models became available as all-wheel drive.
[Via Motor Authority]