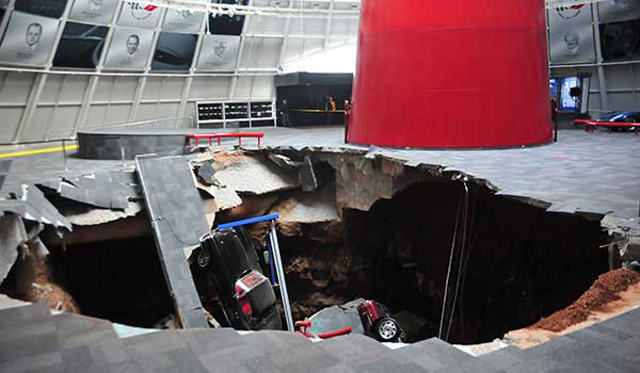 Not too long ago, it was confirmed that the sinkhole which swallowed a selection of Corvettes at the National Corvette Museum in Kentucky would be filled in. This came as somewhat of a surprise considering the museum posted record attendance figures and expressed interest in retaining the sinkhole as an attraction.
Now it has been revealed that it will cost $3.2 million to fill in the sinkhole with repairs set to begin on November 10 and a completion date pencilled in for July next year.
To fill in the massive sinkhole, construction crews will remove a selection of large boulders from the hole. It will then be filled with 4000 tons of stone as well as support beams and trusses. To track the progress of the repairs, a webcam feed will be available from the museum's website.
Discussing the repairs, National Corvette Museum executive director Wendell Strode said, "We appreciate all of the support, feedback, ideas and prayers throughout this very interesting time in our history. Sunday, November 9 will be the very last day to see the sinkhole up close and in person – so if you've been wanting to check it out for yourself you have just over three weeks to do so."
[Via Automobile Magazine]