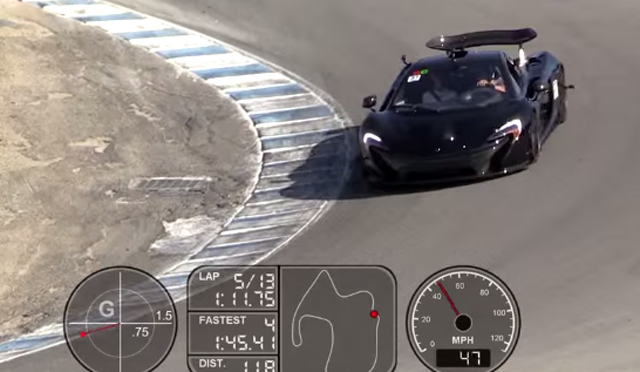 UPDATE: Video has been removed, sorry!
The McLaren P1 is certainly one of the most potent track-oriented road cars ever designed. As a matter of fact, it can only really be rivalled by the Porsche 918 Spyder and the Ferrari LaFerrari on a track. Consequently, an American owner who just recently took delivery of a stunning dark purple P1 recently headed out to Laguna Seca for a couple hot laps.
[youtube]https://www.youtube.com/watch?v=8m_kaGILFfI#t=296[/youtube]
The entire outing was captured by nine different cameras attached to the P1 itself as well as one from a McLaren 650S struggling in vein to keep up with the hybrid monster!
If you need reminding, the McLaren P1 is one of three new hybrid hypercars on the market, the others being the Porsche 918 Spyder and LaFerrari. The P1 utilises an upgraded variant of the 3.8-liter twin-turbocharged V8 engine from the 12C designed to now deliver 727 hp at 7,300 rpm and 531 lb-ft of torque at 4,000 rpm. This internal combustion engine is then mated to an electric motor delivering a further 176 hp and 192 lb-ft of torque leading to a total of 903 hp and 664 lb-ft.