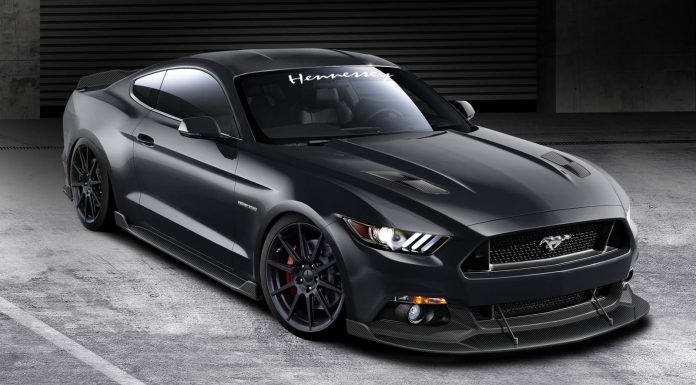 Pricing details for Hennessey Performance's selection of 2015 Ford Mustang upgrades have been revealed including for the range-topping HPE700 variant.
Two different packages for the new Mustang are available from Hennessey. The first is the HPE600. It sees the addition of a 2.3-litre supercharger, HPE engine management calibration, HPE600 badging, Hennessey floor mats, serial numbered dash and engine plaques as well as a 3 year/36,000 mile limited warranty. All up, it delivers 620 hp at 6600 rpm and 595 lb-ft of torque at 4400 rpm. It costs $14,950 installed.
As for the HPE700, it uses a 2.9-litre Roots-style supercharger. Additionally, the throttle body has been upgraded, a stainless steel exhaust system added as well as upgrades to the fuel injector and fuel pump. All told, the 2015 Hennessey Mustang HPE700 delivers an impressive 717 hp and 632 lb-ft of torque. As a result, it will sprint to 96 km/h (60 mph) in a mere 3.6 seconds and complete the quarter mile in just 11.2 seconds at 210 km/h. It costs $17,950 installed.
The CarbonAero kit is also available with it seeing the addition of a carbon front splitter, carbon side sills and a carbon rear lip spoiler and diffuser. It costs a total of $7450. Elsewhere, a $2450 stainless steel exhaust system is available on its own as well as special Hennessey H10 lightweight 19-inch of 20-inch wheels priced at $6950.