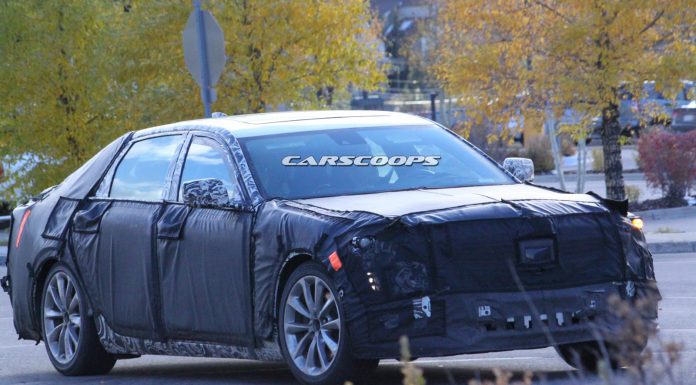 A new prototype for the upcoming Cadillac CT6 has been spied testing under heavy camouflage. Set to rival the Mercedes-Benz S-Class as well as the next-generation BMW 7-Series, the Cadillac CT6 is just one of a number of new model's the firm is developing.
Because of the camouflage cladding this particular prototype, it is hard to say just what the CT6 will look like. With that being said, a number of design elements from the Cadillac Elmiraj Concept unveiled last year are expected to be included.
One particular area which the American manufacturer will focus on will be ensuring that the CT6 is as light as possible. As a matter of fact, General Motors executive vice president of global product development Mark Reuss recently announced that the CT6 will weigh 24 kg less than the current CTS. This is extremely impressive considering the CT6 will be about 20 cm longer than the CTS while also inevitably being wider and featuring a range of additional luxuries.
On an engine front, it was recently confirmed that the CT6 will also be available as a plug-in hybrid. This variant will be capable of hitting 120 km/h on electric power alone and hit 96 km/h in less than six seconds despite the size of the car.
Alongside the Cadillac CT6, the company recently confirmed it had signed off on an even more luxurious car, set to be dubbed the CT8 or CT9, to rival long-wheelbase versions of the S-Class and 7-Series.
[Via Carscoops]