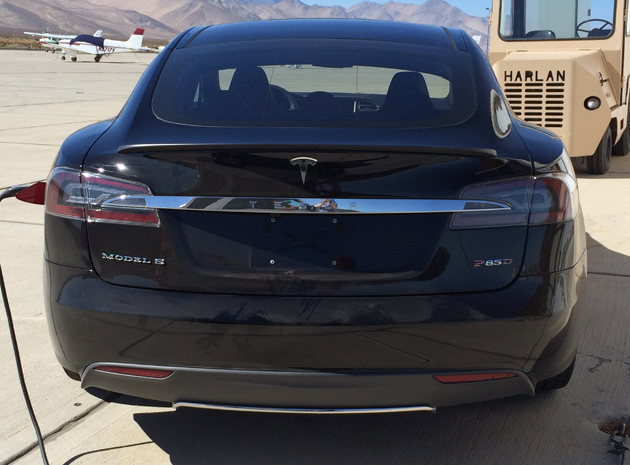 The first details about the brand new all-wheel drive Tesla Model S P85D have emerged and the car certainly promises a lot.
As rumours suggested, the D in the name refers to the dual-motor setup. The Tesla Model S P85D features the same 470 hp electric motor driving the rear wheels as the existing P85 performance model but now also receives an electric motor providing an additional 221 hp to the rear wheels. As a result, the Model S P85D delivers an extreme 691 hp and 687 lb-ft of torque.
As a result of this power, the lack of a traditional transmission and all-wheel drive, the Model S P85D reaches 96 km/h (60 mph) in a mere 3.2 seconds and completes the quarter mile in just 11.8 seconds.
These performance figures are even more impressive when you consider the fact that the Model S P85D is 291 pounds heavier than the standard car. However, it does have a perfect 50:50 weight distribution. Beyond the top-spec P85D variant, two further Model S versions with the dual motor system are available with each delivering 376 hp and 362 lb-ft of torque. One has a range of 295 miles while the smaller battery pack of the entry-level 60D has a 225 mile range.
Alongside the reveal of the new all-wheel drive system, Tesla also revealed a selection of autonomous driving technologies which are already in production. The new autopilot system sees the adoption of a forward-facing radar, camera complete with image recognition as well as a long-range sonar with a 360-degree field of vision. When it is all said and done, equipped Model S examples can now drive themselves. However, further safety systems need to be implemented before Model S owners can sit back and read the newspaper from the driver's seat.
[Via Autoblog]