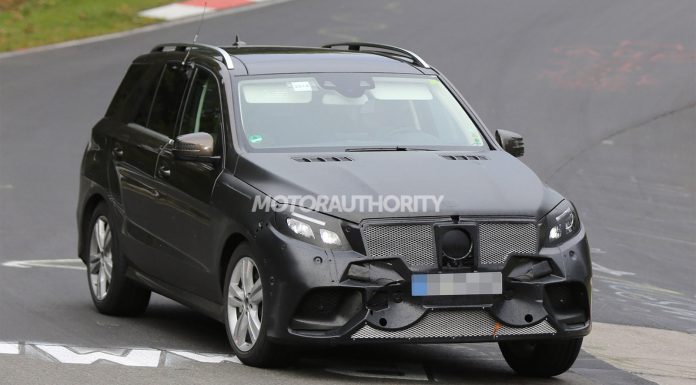 A new prototype for the facelifted 2016 Mercedes-Benz M-Class has been spied tackling the Nurburgring in its latest round of testing.
Due to the presence of heavy black camouflage at the front-end of this prototype, it seems likely that some fairly significant styling changes will be adopted at the front-end. New features are likely to include headlights similar to those from the GLA-Class while a revised front grille and air intakes are also expected.
At the rear, we expect brushed dual aluminium exhaust tips which mimic those from the recently launched 2015 Mercedes-Benz C-Class Estate. One additional feature which we know will make an appearance in the new M-Class will be the German marque's latest dashboard design with the latest variation of the COMAND system.
Besides these changes, some fairly juicy upgrades on the engine side of things are pinned in. First off, the base Mercedes-Benz ML350 will features a 3.0-liter turbocharged V8 engine delivering 329 hp and 354 lb-ft of torque. Elsewhere in the line-up, the ML350 BlueTEC diesel will feature a small four-cylinder powertrain and Mercedes-Benz's new nine-speed auto 'box is also likely to feature on the 2016 Mercedes-Benz M-Class. As for the performance oriented models, the ML550 and ML 63 AMG, no engine changes are expected.
When the new M-Class hits the roads, it will also be joined by the long-awaited Mercedes-Benz ML Coupe pinned to rival the BMW X6.
[Via Motor Authority]