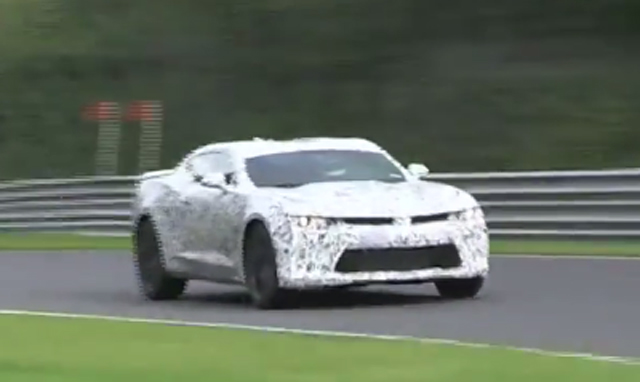 The first video of the sixth-generation Chevrolet Camaro testing at the Nurburgring has been released with the clip showing just how impressive the new V8 powered Camaro variants will sound.
Based on this video as well as recent teaser images, it seems apparent that this is either a prototype for the next Camaro SS or a new ZL1. If it is neither of those, it is bound to be one of the more powerful V8 variants and looks surprisingly at home on the difficult German racetrack.
[youtube]https://www.youtube.com/watch?v=rW23KpJcvjg#t=72[/youtube]
From a design standpoint, the following test mule is easy to distinguish from the current model. The front end is edgier and includes exceptionally narrow air intakes feeding the new engine which itself is covered by a new bonnet with a prominent power dome. The rear windshield and decklid has also been redesigned with this particularly prototype sporting a small rear spoiler as well. Quad tailpipes can also be found at the rear.
Alongside the range-topping 6.2-litre V8, the sixth-gen Camaro is set to adopt the small 2.0-litre turbocharged four-cylinder used by both the ATS and CTS.