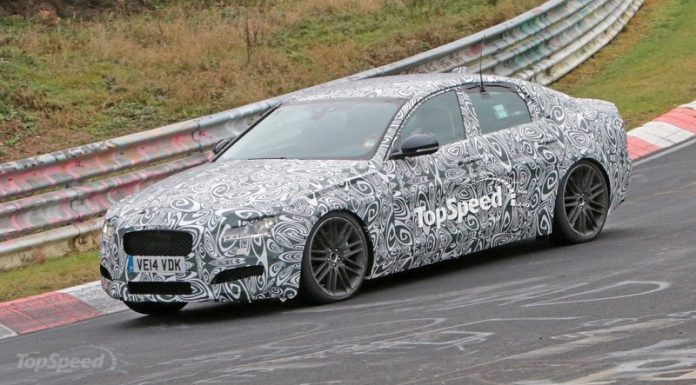 Another prototype of the next-generation 2016 Jaguar XF has been spied testing albeit this time at the famous Nurburgring.
The following test mule features a sharper tailgate than the existing XF and while the entire car is camouflaged, it certainly appears to have sharper lines than the current XF. New headlights and taillights are also featured although they are almost impossible to see.
Like the Jaguar XE, the next-generation XF will utilise the British marque's new all-aluminium architecture debuted on the Jaguar C-X17 Sports Crossover Concept introduced last year. Thanks to this new platform, the second-generation XF will weigh significantly less than the current model. As a matter of fact, weight could drop by 100 kg overall thanks to the extensive use of lightweight body panels as well.
One of the most exciting engines set to be available with the next Jaguar XF will be the 3.0-litre supercharged V6 from the F-Type. Other engines likely to be available will be the new 2.0-litre petrol and diesel four-cylinder engines. At the top of the range, the future Jaguar XF SVR will utilise Jaguar's existing 5.0-litre supercharged V8.
Both rear-wheel drive and all-wheel are likely to be made available while the nine-speed ZF transmission from the Range Rover Evoque is expected to send the power to the wheels. A plug-in hybrid version is also likely.
[Via Top Speed]