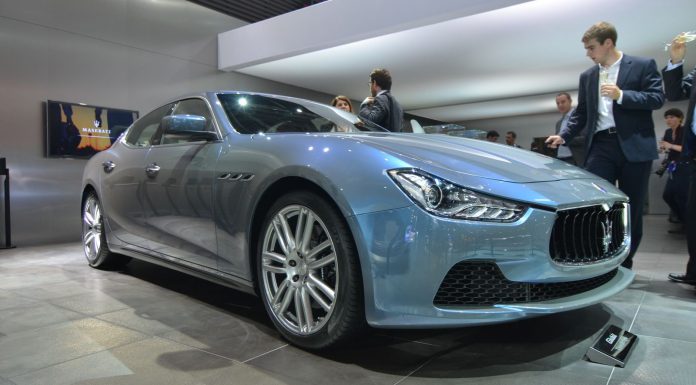 The 2015 Maserati Ghibli Ermenegildo Zegna Edition is currently on display at the Paris Motor Show 2014. Following on from the Ermenegildo Zegna variant of the Quattroporte revealed this time last year, the special Ghibli features a plethora of upgrades over the standard Ghibli S Q4 on which it is based. We went for a better look at the car in the flesh.
A new shade of paint is the first notable different. This colour is dubbed Azzurro Astro and it is complemented by a special set of 20-inch Urano wheels finished in Liquid Metal. The aluminium pigments used in Azzurro Astro add a special sense of depth to the paint work.
It is the interior however where the collaboration between Maserati and Ermenegildo Zegna becomes immediately apparent. Across the seats, extra fine grain natural colour leather is utilised alongside contrasting light grey stitching. This is matched to a central silk insert with a micro-chevron weave of vertical rolls on the central seat and backrest area, within which the central roll, with leather piping on the sides, features a special macro-chevron weave.
The door panels feature Zegna silk Jersey and a diagonal roll pattern. This same luxurious material is used for the 2015 Maserati Ghibli Ermenegildo Zegna Edition's roof lining, pillars and sunshades. Elsewhere in the cabin, glossy carbon fibre is featured on the central transmission tunnel and areas of the door panels.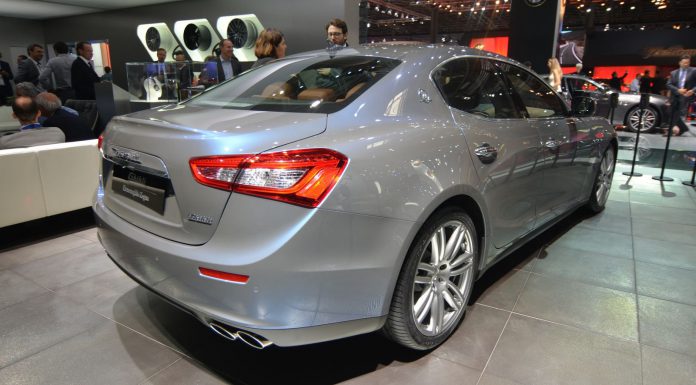 For more about the 2015 Maserati Ghibli Ermenegildo Zegna Edition, check out our previous post. For more from the Paris Motor Show 2014, see our dedicated news channel.