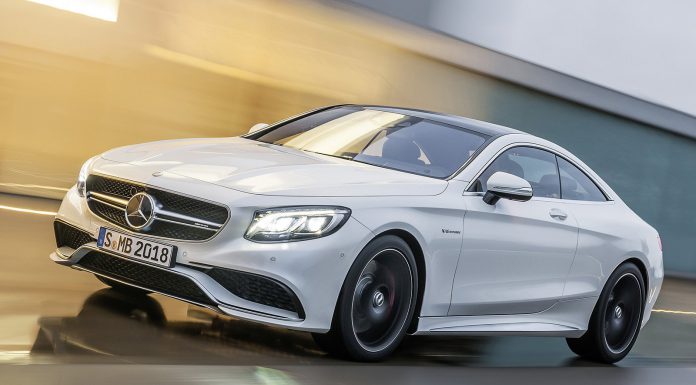 The Mercedes-Benz S-Class Coupe will start at $119,000 in the United States when the car is launched there in the next couple of weeks.
The entry-level model is the S550 4Matic Coupe. It is powered by a twin-turbocharged 4.7-litre V8 engine delivering 455 hp and 516 lb-ft of torque. As a result of this powertrain, the Mercedes-Benz S550 4Matic Coupe hits 100 km/h in a brisk 4.6 seconds.
Next in the line-up is the S63 AMG 4Matic Coupe complete with its 5.5-litre twin-turbocharged V8 engine. It will be priced from $160,900 and is certainly worthy of wearing the coveted AMG badge. Its potent engine delivers 577 hp at 5500 rpm as well as a brutal 664 lb-ft of torque at a low 2240 rpm. The massive engine is then mated to a seven-speed Speedshift automatic transmission. Interestingly, the new S 63 AMG Coupe can be ordered either in rear-wheel drive or all-wheel drive configurations in Europe but in the U.S., the car is only available with the 4Matic all-wheel drive system. As for the all-wheel drive version, 33 per cent of the power is sent to the front axle with the remaining 67 per cent going to the rear wheels.
Despite its very heavy weight of 1,995 kg, Mercedes-Benz claims that the S 63 AMG Coupe can hit 100 km/h from a standstill in a mere 3.9 seconds with the all-wheel drive system and reach the same mark as a RWD in 4.3 seconds.
Topping out the U.S. bound variants is the Mercedes-Benz S65 AMG Coupe. It is the fourth model in the Mercedes-Benz catalogue to come fitted with the legendary 6.0 litre V12 powerplant. For the S 65 AMG coupe it produces 630 hp between 4800-5400 rpm and 1000 Nm between 2300-4300 rpm.
The power makes possible a 0-100 km/h sprint of just 4.1 seconds and an electronically limited top speed of 250 km/h. Interestingly, the S65 AMG Coupe is only available with rear-wheel drive.