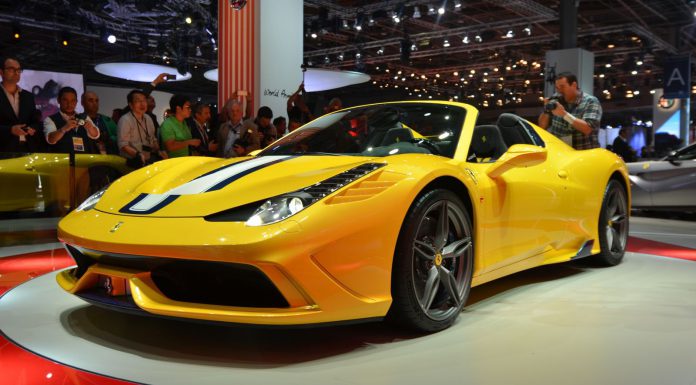 The wraps have just been taken off the quickest ever Ferrari convertible at the ongoing Paris Motor Show 2014 with the Ferrari 458 Speciale A. The car has been created as a spiritual successor to the 16M Scuderia Spider and combines all the performance of the 458 Speciale coupe with the open-air experience of the 458 Spider. We got an exciting up-close look at the show.
Unlike the 16M, the 458 Speciale A features the same folding aluminium hardtop as the 458 Spider. Unlike the Speciale coupe, the A, which stands for Aperta, will be limited to just 499 Ferrari collectors and is the most powerful Spider in Prancing Horse history. Its aluminium retractable hard top, which takes only 14 seconds to deploy or retract, helps reduce the weight difference with the Speciale coupé to just 50 kg.
The 458 Speciale A features the most powerful naturally-aspirated road-going V8 engine ever built by the Italian marque. The engine, which might be the last naturally-aspirated engine that Ferrari ever builds, produces a colossal 597 hp and 540 Nm of torque at 6000 rpm.
All this power means the Speciale A sprints from 0-100 km/h in just 3.0 seconds, the same as the Speciale Coupe, and has a Fiorano lap time of 1 minute 23 seconds, again identical to the Coupe. The Speciale A is also the most aerodynamically efficient topless Ferrari ever made and it sure looks fantastic with the two beautifully crafted buttresses behind the occupants heads.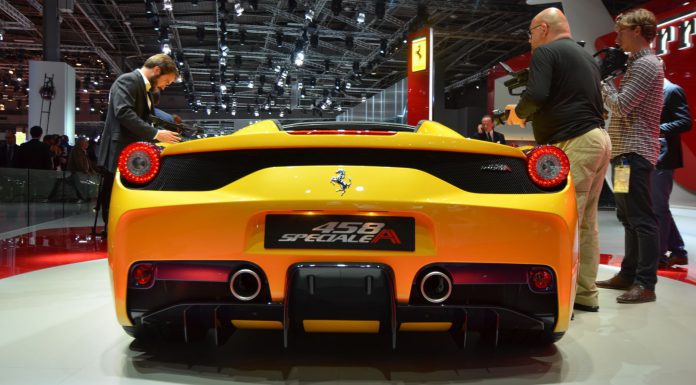 For more details about the 2015 Ferrari 458 Speciale A, be sure to check out our previous post. For full coverage from the Paris Motor Show 2014, head on over to our dedicated news channel.