Just a couple of weeks after debuting online, the covers have been taken off the 2015 Bentley Mulsanne Speed at the Paris Motor Show 2014. As the most potent variant of the Mulsanne ever offered, the new Mulsanne Speed maintains all the luxuries we've expected from the Mulsanne but with some extra punch. We went in for a closer look at the car in the flesh.
Under the hood, Bentley has tweaked the car's 6.75-litre twin-turbocharged V8 engine to now deliver 530 hp and an even more impressive 811 lb-ft of torque from just 1750 rpm. To achieve these gains, Bentley has fitted a new combustion chamber, inlet ports, fuel injectors, spark plugs and changed the compression ratio. Additionally, new variable valve timing and optimised turbocharger control has been implemented. Consequently, the 2015 Bentley Mulsanne Speed hits 100 km/h in a mere 4.9 seconds as well as a top speed of 305 km/h.
Beside the new engine is a recalibrated transmission to make the driving experience more involving. The new systems have been developed with the help of keen drivers and professional chauffeurs. A new 'S' mode comes fitted as standard to the Mulsanne Speed with it keeping the revs above 2000 rpm to ensure the turbochargers are always ready for action.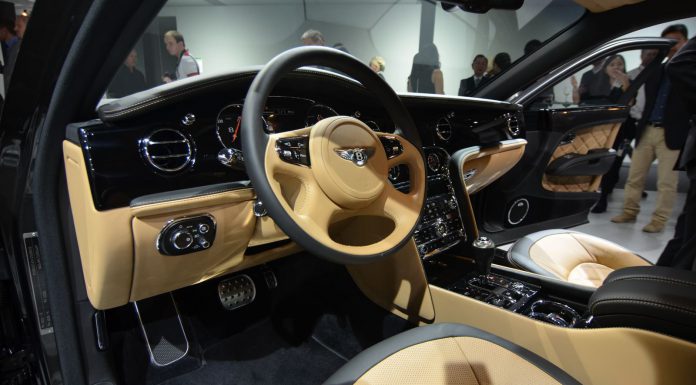 Despite the extra power and torque, the Mulsanne Speed actually emits fewer CO2 emissions than the current car. As a matter of fact, the new powertrain records 342 g/km of CO2 which is a 13 per cent reduction. Additionally, the fuel range of the car has been extended by 80 km.
For more details about the 2015 Bentley Mulsanne Speed, be sure to check out our previous post. For full coverage from the Paris Motor Show 2014, head on over to our dedicated news channel.