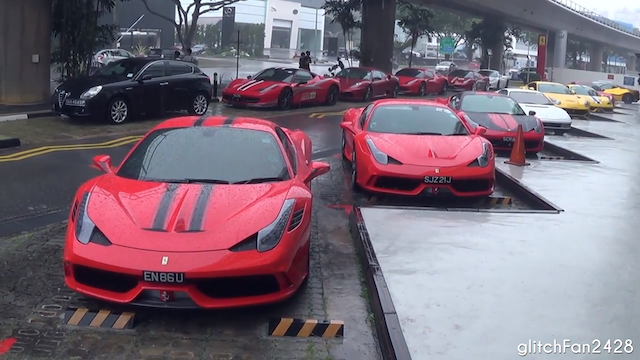 Ferrari are known to make some on the fastest, prettiest and most flamboyant supercars in the world. The brand is recognised globally and as a result their cars are extremely desirable. Singapore, a small island place just above the equator is supercar mad and even thought taxes are incredibly high Ferraris are a common sight.
[youtube]http://youtu.be/r7i70yn_tmI[/youtube]
Here we have a video of a number Ferraris parked outside the Singapore Ferrari showroom. The cars, that cost many times more than they do in Europe, were caught in a heavy storm caused by the extreme heat in Singapore. There is even a gold wrapped 458 in the group. This would be hell for many Ferrari owners out there who refuse to get their cars wet!