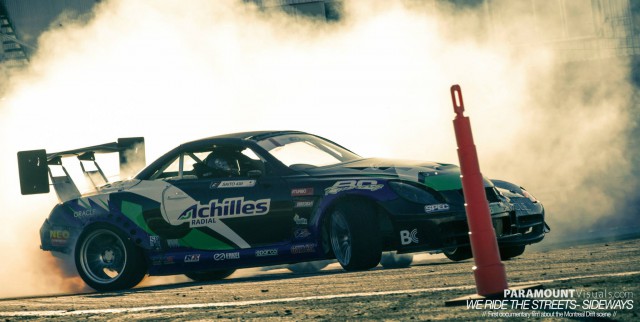 History was made on the weekend of August 31 – September 1, 2014 in Montreal, Canada; the first ever Formula Drift event was held. With the international presence of Daigo Saito, Kenny Moen, Dean Kearney, Robbie Nishida and many more, the top drifters in Quebec were handed an opportunity to run head to head with these legends. The result of this was nothing less of absolutely epic battles. No body held back, and every driver drifted as if it was the battle of their lives. 
[youtube]https://www.youtube.com/watch?v=Xz8jgHRCpzE[/youtube]
The highest position a driver from Quebec held was just off the podium at fourth place from Marc Landreville. He's already a Formula Drift licensed drifter out of Quebec, Canada and has been drifting in the American series for a couple of years now.
The podium was filled with the Achilles team of Kenny Moen who came in third, Dean Kearney who just edged it in second with an absolutely epic battle between the later to be champion of the first Formula Drift Canada event, Daigo 'the ninja' Saito.
Overall it was a very successful event that brought a lot of attention to the drift scene in Montreal. While filming their documentary film We Ride the Streets Sideways, Paramount Visuals were there taking photos of key moments throughout the two day event. Let's see what the future holds!