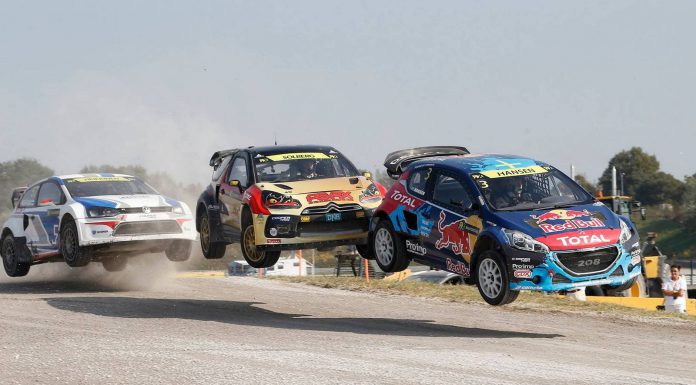 Petter Solberg made history this weekend in Italy after becoming the first race driver to win two different FIA World Championships. Solberg won the inaugural FIA World Rallycross Championship presented by Monster Energy, adding the title to his 2003 WRC championship title. He suffered broken suspension but only needed to finish in the podium in order to claim the championship and he finished third.
Driving for Team Peugeot-Hansen, Timmy Hansen claimed the victory from this round after a series of wins throughout the heats. Hansen won the Monster Energy Super Charge Award, the semi-final and the final heat. This was the first World RX win for the 21-year old driver whose father happens to be the multiple European Rallycross Champion Kenneth Hansen.
After the race, Solberg said, "This hasn't sunk in yet, it is a dream come true, When I stopped rallying, I didn't know what to do and then IMG took on rallycross and brought it to an amazing level so now it seemed like the right choice. I broke the right-rear suspension in the final and my spotter was shouting on the radio that I needed to calm down because all I needed to do was get to the podium and I would win the Championship.
"I just wish my family were here today with me – my wife Pernilla and my son Oliver are back home because Oliver won the Norwegian Crosskart Championship yesterday. I have to thank them and my whole team who have worked so hard to make this happen, they really do an incredible job and have worked day and night for a lot of the season. I can't wait to celebrate this moment with everyone tonight."
Swedish Touring Car Champion Richard Goransson was racing in the Supercar category for the first time in this round and impressed by finishing second on the podium. Ford Olsbergs MSE Reinis Nitiss was the closest rival to Solberg in the fight for the drivers' title but failed to make it past the semis. This round also saw the last race for the FIA European Rallycross Championship (Euro RX) that was won by Robin Larsson.
Sergej Zagumennov from Russia became the European Super1600 champion while the day's win went to Nikita Misyulya who finished 18 points behind Zagumennov in the standings. Daniel Lundh from Sweden won the TouringCar championship.
Video Highlights
[youtube]http://www.youtube.com/watch?v=ZZNc2s3mWxY[/youtube]
Results: