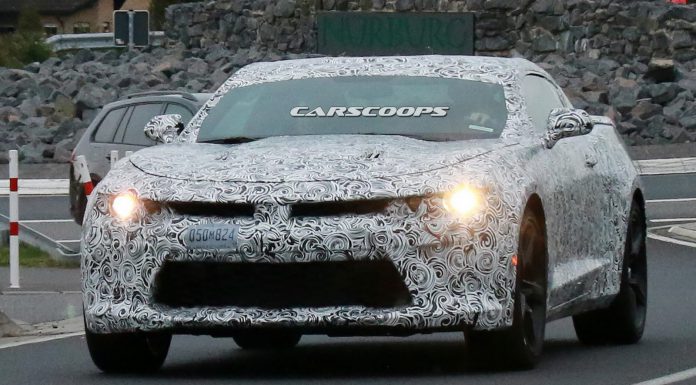 A brand new 2016 Chevrolet Camaro prototype was recently spied testing at the Nurburgring with it wearing the least amount of camouflage for a next-gen Camaro test-mule we've seen thus far.
As a result of this, the following prototype gives us our best glimpse yet at the brand new design for the latest Camaro. It is apparent that the front end is edgier than the existing Camaro with exceptionally narrow air intakes feeding the new engine which itself is covered by a new bonnet with a prominent power dome.
The rear windshield and decklid has also been redesigned with this particularly prototype sporting a small rear spoiler as well. The car pictured also features quad exhaust pipes indicating that it could be the next-gen Camaro SS or ZL1.
Beyond the design, we know that the new Camaro will utilise the same Alpha architecture of the Cadillac CTS and ATS and ditch the current Zeta platform. Additionally, a 6.2-litre V8 will top out the range with a small 2.0-litre turbocharged four-cylinder from both the ATS and CTS likely to act as the entry-level engine and a rival to the 2015 Ford Mustang's 2.3-litre turbocharged EcoBoost engine.
[Via Carscoops]