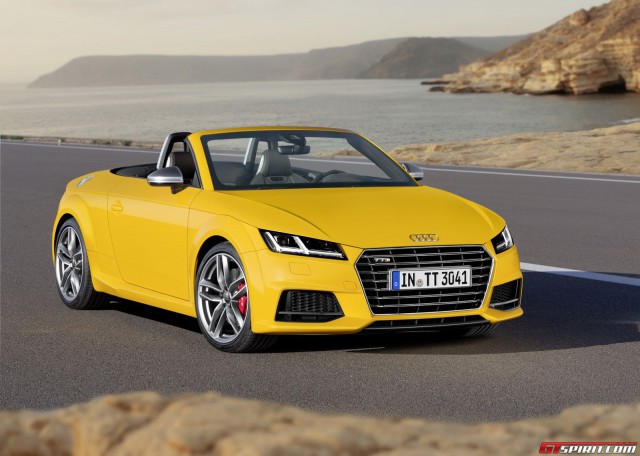 The first official promo for the new 2015 Audi TTS Roadster has just been launched and as far as promo videos go, this is certainly one of the most head-scratching.
Rather than explain the plot behind the clip, we'd much rather tell you about the new drop-top TTS and just how impressive it is.
[youtube]https://www.youtube.com/watch?v=XB1JeGnFKSA#t=88[/youtube]
The range-topping Audi TTS Roadster comes with an upgraded 2.0-litre TFSI petrol engine. Tuned to deliver a total of 306 hp as well as 280 lb-ft of torque, the 2015 Audi TTS Roadster will sprint to 100 km/h in a respectable 4.9 seconds as well as an electronically limited top speed of 250 km/h.
Elsewhere in the Audi TT Roadster range is the 2.0-litre TDI diesel engine delivering a total of 181 hp and 280 lb-ft of torque as well as a 2.0-litre TFSI pumping out 227 hp and 273 lb-ft of torque sitting in the middle of the range.
As with the coupe models, the entry-level diesel powered TT Roadster is available solely in front wheel drive whereas the entry petrol equipped model can be fitted with an all-wheel drive system. The TTS Roadster is only available with the company's famed quattro all-wheel drive system by comparison. Finally, both the petrol engine powered TT Roadster variants can be optioned with a six-speed manual transmission or alternatively, a dual-clutch S tronic gearbox also featuring six gears.