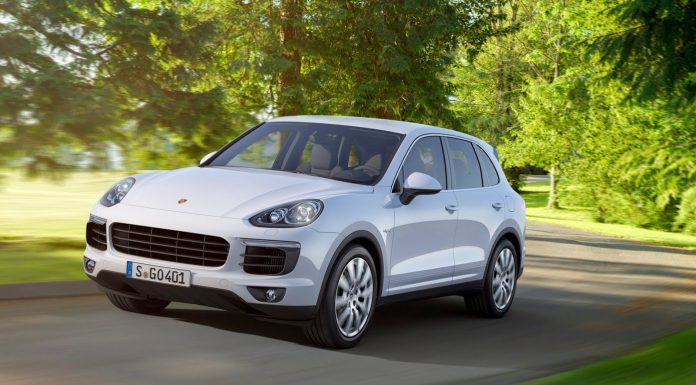 The recently revealed 2015 Porsche Cayenne S E-Hybrid is set to make its public debut at next week's Paris Motor Show 2014. Other 2015 model year Cayenne variants set to be unveiled at Paris include the Cayenne S, Cayenne Turbo and Cayenne Diesel.
The 2015 Porsche Cayenne S E-Hybrid shares its hybrid powertrain with the Panamera hybrid's which sees a 3.0-litre supercharged V6 petrol engine delivering 410 hp at 5500 rpm and 435 lb-ft of torque between 1250 and 4000 rpm. This engine is then mated to an electric motor delivering 94 hp. All up, the 2015 Porsche Cayenne S E-Hybrid will hit 100 km/h in 5.4 seconds and a top speed of 243 km/h.
From a visual standpoint, the 2015 Porsche Cayenne range utilises brand new headlights featuring a more compact design than previously used. In the Cayenne Diesel, S and S E-Hybrid variants, the car utilises Bi-Xenon headlights with four-point LED daytime running lights while in Turbo specification, the car utilises LED bulbs alongside the Porsche Dynamic Light System.
Maintaining focus on the front end, the 2015 Porsche Cayenne also receives a new front bumper and skid plate as well as blacked out grilles. The foglight, daytime running light and front air intake surrounds are also finished in matte black which gives a very unique look to the sporty SUV.
At the rear, the rather dramatic visual changes continue with completely revised taillights featuring. It was initially expected that they would be nearly identical to the Macan's taillights but thankfully, they have their own unique design characteristics. They are slimmer than the current models and also feature sharper edges. Elsewhere, a new tailgate is featured as are redesigned exhaust pipes.
Another key change of the latest Cayenne is the brand new engine powering the Cayenne S. Its 4.8-litre V8 engine has been replaced with a more efficient 3.6-litre twin-turbocharged V6. This engine comes standard in the Cayenne S and produces 414 hp and 406 lb-ft of torque compared to the 395 hp and 369 lb-ft of torque of the V8 it replaces. As a result, the 2015 Porsche Cayenne S hits 100 km/h in 5.1 seconds with the optional Sport Chrono package.