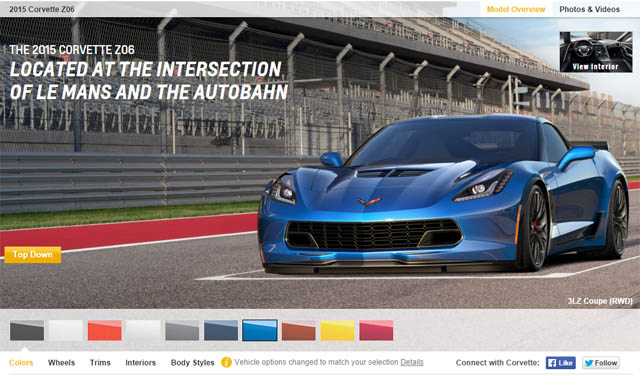 The online configurator for the brand new 2015 Chevrolet Corvette Z06 and Z06 Convertible models has just been released.
From a colour standpoint, ten different colours are available for both Z06 variants ranging from Torch Red through to Laguna Blue Tintcoat. Additionally, four different wheel options are available with a plethora of different interior trims also available to help customise each and every new Corvette Z06.
Under the hood, the 2015 Corvette Z06 gets a new, LT4 supercharged 6.2 litre V8 engine which delivers 650 hp and an equal 650 lb-ft of torque. Peak horsepower is reached at 6400 rpm while peak torque is found at 3600 rpm. Excitingly, 90 per cent of the total torque figure is available from just 2500 rpm through to 5400 rpm.
The engine leverages direct injection, active fuel management, cylinder deactivation and continuously variable valve timing to produce that performance. The gearbox choice is between a traditional seven-speed manual or an all-new, high-performance eight-speed automatic transmission with paddle shifters for manual control.
The aluminium frame carries over from the Corvette Stingray and will be shared, pretty much as it is, with the Corvette Racing C7.R. For the first time, the aluminium frame will be produced in-house at General Motors' Bowling Green assembly plant. It is a stiffer design which allows for a removable carbon fibre roof panel to be added in the Z06 coupe.