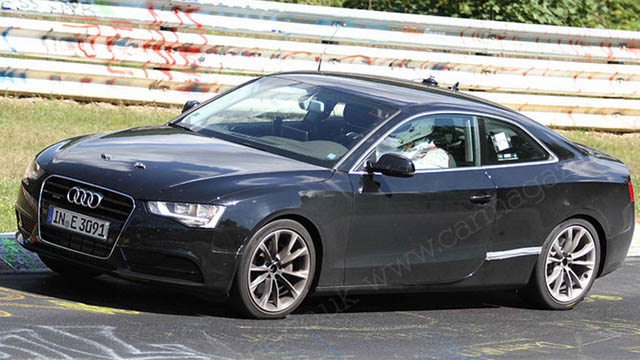 With the BMW 4-Series recently being released and the next-generation Mercedes-Benz C-Class being developed, the current Audi A5 Coupe is unquestionably in need of a refresh. Accordingly, the German marque is reportedly preparing such a model for 2016.
Car Magazine believes that the next-generation Audi A5 Coupe will feature an evolutionary design from the existing car. Prototypes have been spied testing at the Nurburgring but they've featured the body of the current model alongside the underpinnings of the next-gen A5 Coupe. Some of the most prominent visual modifications will be the inclusion of Audi's latest single frame grille alongside sharper lines and air intakes.
The next-gen Audi A5 Coupe and A5 Cabriolet will be built around a slightly modified variant of the next A4's MLBevo architecture. On an engine front, a 1.8-litre petrol, a 2.0-litre petrol and a 3.0-litre diesel are expected. Further down the line we can expect to see a new Audi S5 and RS5.
[Via Car Magazine]