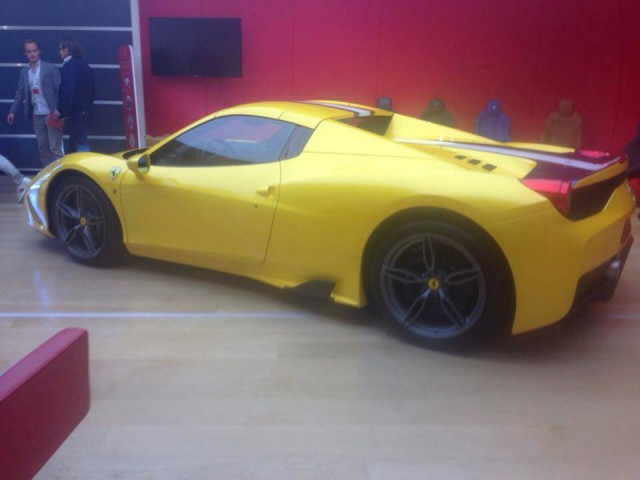 Ferrari introduced the hardcore F430 Scuderia in 2007 at the Frankfurt Motor Show and one year later in 2008 pulled the veil from the soft top version of the car, the Scuderia 16M. The same thing is expected to happen with the current 458 Speciale and the droptop variation of the car, and this leaked photo provides even more evidence than the leaked pictures we saw earlier this week.
This is the first time we've seen a drop-top Speciale in the flesh without any pre-production camouflage. Just like the earlier photos, which were reportedly leaked through Ferrari's online configurator, the car has racing stripes that differ from the standard Speciale's, extending past the engine bay and covering the entire top portion of the rear clip.
Expect the Speciale Spider to adopt the same 4.5-litre V8 engine as the standard Speciale, delivering the same 597 horsepower and 398 lb-ft of torque. The car should sprint from 0-100 km/h in a similiar time as the coupe, with 0-100 km/h coming in just over 3 seconds and 0-200 km/h happening in just over 9 seconds. Separating the car from the hardtop will be two model exclusive wheel designs, new seats and the aforementioned decal change.
Ferrari is expected to pull the wraps off of the 458 Speciale Spider at the Paris Motor Show next month. At that time, a name for the car will finally be revealed. It's rumored the car will be called the 458 LS, but one thing we know for sure is it won't be called Speciale Spider. Only 458 units will be produced and Ferrari was already shopping the car around to potential customers at Pebble Beach last month, so just like any other Ferrari, demand should be significant.