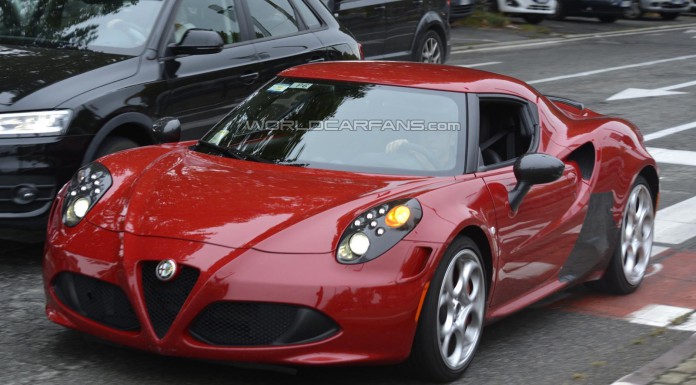 An interesting Alfa Romeo 4C prototype has been snapped testing and while it only features some small points of difference, these changes could be giving up its true identity as a higher performance-oriented variant.
The most interesting aspect of this prototype is that it features new side skirts which appear to incorporate air intakes just in front of the rear wheels. While they are covered in black tap, the profile of the intakes is clearly visible. The rear also features a modified bumper and diffuser.
Thanks largely to its overall light weight, carbon fibre monocoque and punchy little 1.75-litre turbocharged four-cylinder engine, the Alfa Romeo 4C has been understandably making headlines all around the world. However, Alfa Romeo confirmed not too long ago that the small engine powering the 4C can be uprated to produce more power with the brakes also having room for improvement.
A high-performance 4C, possibly dubbed the Alfa Romeo 4C GTA could deliver almost 270 hp which is about 30 hp more than the standard car.
As a reminder, the regular Alfa Romeo 4C certainly isn't a slouch. It features a mid-engined layout, a carbon fiber monocoque chassis (not yet seen in a car of this price), and the Italian firm has confirmed that each horsepower will be pushing only 8.8 pounds. One of the best features about the 4C is that in Europe spec, it tips the scales at just 895 kg. This has been achieved through the use of advanced materials, with one of the most notably weight-saving features being the carbon fiber monocoque which weighs just 65 kg.
[Via World Car Fans]