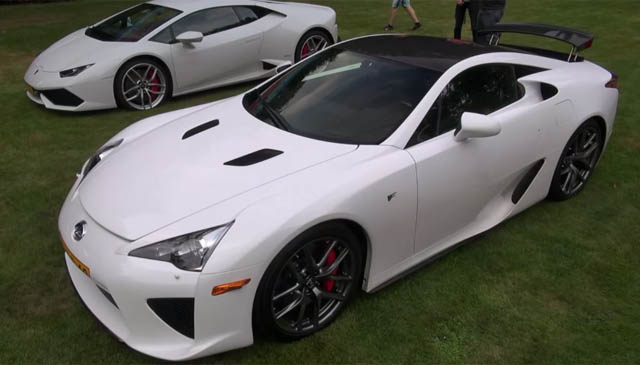 A mere nine examples of the Lexus LFA Tokyo Motor Show Edition were ever created and while the special LFA variant isn't as outlandish or extreme as the Nurburgring Edition, it remains a truly incredible sight to behold.
Differentiating the Tokyo Motor Show Edition from the 'standard' Lexus LFA is its selection of additional exposed carbon fibre elements like the roof, rear wing and front splitter.
[youtube]https://www.youtube.com/watch?v=DwK_tOVU2No#t=138[/youtube]
Beneath the skin, the Lexus LFA Tokyo Motor Show Edition features the same race-derived 72-degrees V10 engine displacing 4.8-litres and producing 552 hp at 8800 rpm as the regular model. The redline is a sky-high 9000 rpm. Peak torque is 354lb-ft at 6,800rpm with 90 per cent available between 3700 and 9000 revs. Pushing the throttle and revving from idle to peak is done in just 0.6 seconds.