Norway's Petter Solberg won round nine of the FIA World Rallycross Championship presented by Monster Energy in Germany this weekend. The round which took place at the Estering saw the closest finish ever witnessed in the sport's 47-year history after Solberg finished just five thousandths of a second ahead of Sweden RX winner and DTM racer Mattias Ekstrom. Robin Larsson, who was the favourite to take victory, finished in third place.
The round saw a record entry of participants with 76 cars in total with 41 taking part in the Supercar category. A total of 10,000 spectators turned up for this exciting round. Solberg admitted to not focusing on finishing first until Larsson made a mistake. When he took the lead, he lost count of the laps towards the end of the race. The finish was so close such that even after crossing the line first, he was not sure if he had won.
Ekstrom and Larsson gave Audi two podium finishes in their Audi S1 supercars. Ekstrom also drives for Audi in DTM. Larsson on the other hand was awarded with the Monster Energy Super Charge Award. One of the luckiest drivers from the day was Volkswagen Marklund Motorsport's Toomas Heikkinen who even after finishing fifth in the final heat had gathered enough points to place him in second place in the overall driver standings. 18-year-old Ford Olsbergs MSE driver Reinis Nitiss was pushed to third in the standings.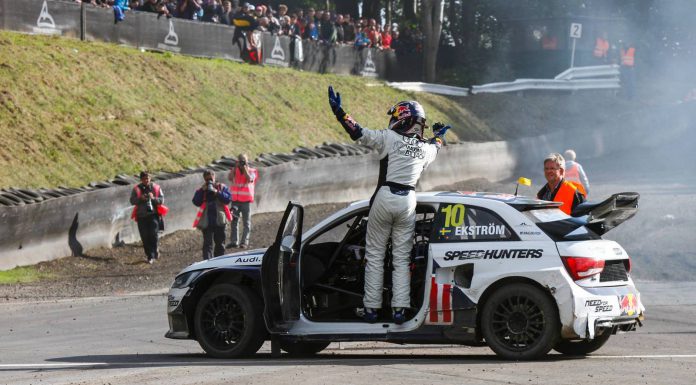 Latvia's Janis Baumanis claimed the win in the Super1600 FIA European Rallycross Championship category, his third of the season. It was Norway's Camilla Antonsen who made history today after finishing first in the Touring Category meaning she became the first female to win a round of the FIA European Rallycross TouringCar category. Round 10 of the FIA World RX will take place at the new RX track of Franciacorta in Brescia, Italy on September 27th.
[youtube]http://www.youtube.com/watch?v=2wlRbB7ei3w[/youtube]
Quotes:
Solberg:
Wow, I don't know what to say – I don't think I have seen anything so close in my whole life. The plan today was not necessarily to win but when I saw Robin's [Larsson] mistake, I knew I had a chance. Then on the second last lap I made a mistake – I couldn't remember if there was one more to go so I hesitated at the joker and lost some time. I heard on the radio that I needed to go flat out to the finish so I really pushed on the last lap. I didn't even know if I had won when I crossed the line, it was a really incredible moment.
Martin Anayi, World RX Managing Director for IMG Motorsports:
Today we witnessed one of the closest finishes there's ever been and the organisers have done a tremendous job at dealing with such a huge entry of cars. For two drivers to be separated by five thousandths of a second is really incredible and helps to demonstrate how extremely close racing RX creates. We also saw four manufacturers in the final today which goes to show just how diverse an entry that Germany RX delivered this weekend. With Ford Olsbergs MSE leading a three-horse race in the Teams' Championship, our next event in Italy is shaping up to be pivotal in the title chase. Today delivered one of the best TV shows that motorsport can offer and again goes to show the true potential of our fledging World Championship – well done to all the teams and drivers for putting on such a fantastic show.