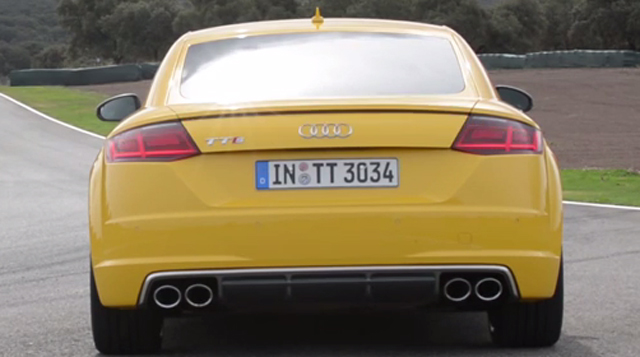 In a performance car world where the horsepower war is still raging, it is easy to forget that all out horsepower and torque isn't the be all and end all of driving enjoyment and involvement. One of the most impressive new sports cars to launch is the 2015 Audi TTS and the following clip showcases its acceleration capabilities and it is certainly no slouch!
[youtube]https://www.youtube.com/watch?v=bRJ-xD-tPVg[/youtube]
Beneath the skin of the new TTS is a redesigned four-cylinder engine that manages to deliver an impressive 310 hp. This puts the TTS well ahead of the entry-level TT which by comparison, produces a mere 184 hp. In the 2015 Audi TTS, this power is sent to all four wheels and complete with launch control it covers the standard sprint in 4.7 seconds and its top speed is electronically governed at 250 km/h. The 2.0 TFSI produces 380 Nm of torque between 1,800 and 5,700 rpm. Controllable flaps in the exhaust system modulate the sporty sound and make it even fruitier.