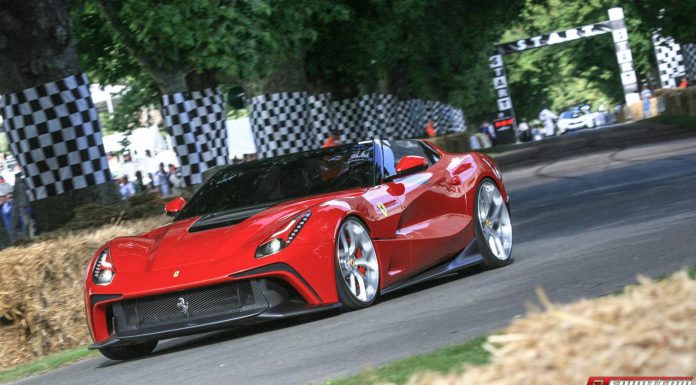 According to new reports from the Czech Republic, the special limited edition Ferrari model set to be limited to just 10 units and the American market, will be a Spyder variant of the F12 Berlinetta and an effective successor to the Ferrari 275 GTS/4 NART Spyder. Last year, an original NART Spyder sold for $25 million.
While these rumours remain unconfirmed, they do seem quite logical. After all, departing Ferrari chairman Luca di Montezemolo recently said that the model will feature a colour scheme incorporating blue with white racing stripes as an acknowledgement of the North American Racing Team.
The special model is pencilled in for a debut on October 12th which is just one day before Montezemolo will step down and make way for Fiat Chrysler Automobiles CEO Sergio Marchionne as the new Ferrari chairman.
Beyond the possibility of being a Spyder, the limited edition model is also expected to feature a thoroughly updated body and interior in a similar vein to the F12 TRS and F12 SP.
In case you didn't know, the Ferrari F12 Berlinetta is powered by a 6.3-litre V12 engine delivering 740 hp. This powerful engine is linked to a seven-speed dual-clutch gearbox and rear-wheel-drive setup. Acceleration from 0-100 km/h is done in three seconds dead while 0-200 km/h takes just 8.5 seconds. That is 0.4 seconds faster than the 700 hp-strong Lamborghini Aventador. The top speed of the car exceeds 340 km/h.
It is quite possible that power for this special edition will be slightly higher than the typical F12.
[Via Czech Exotics]