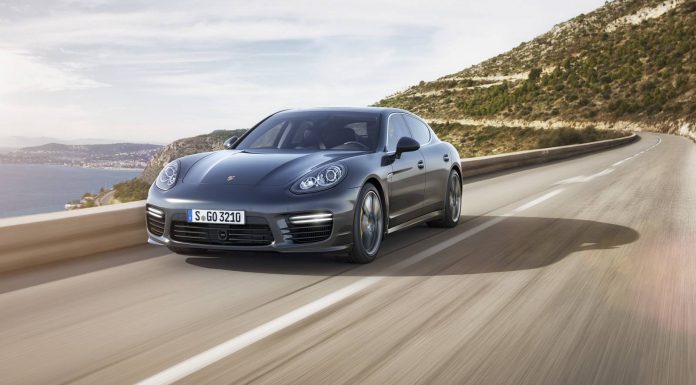 According to a new report from Automobile, Porsche is planning to release a limited run variant of the Panamera later in the year.
Details about the new model remain limited, but it seems likely that it will come fully-optioned and be distinguished from other Panamera models thanks to its special paint scheme and newly appointed leather upholstery.
Designed to top out the existing Panamera range, the new variant will most likely be based on the Porsche Panamera Turbo S Executive and limited to just 100 units, 30 of which are destined for the U.S.
Under the hood, the 2014 Porsche Panamera Turbo S Executive is fitted with the same 4.8-liter twin-turbocharged V8 engine as the standard Panamera Turbo. However, thanks to new turbochargers featuring larger compressors, higher injection pressure which sees it increase from 20 bar to 140 bar, pistons featuring a new aluminium alloy and specifically coated piston rings, the 2014 Porsche Panamera Turbo S and Turbo S Executive produces an impressive 50 hp more. That results in peak power of 570 hp.
Additionally, these engine changes have seen a dramatic increase of 50 Nm of torque over the standard Panamera Turbo. As a result, the new Porsche Panamera Turbo S/Executive pump out 750 Nm of torque between 2250 rpm and 5000 rpm. When the overboost function is enabled, that increases to 800 Nm.
What this means is that 100 km/h passes by in a mere 3.8 seconds while top speed exceeds 310 km/h. Differentiating the Turbo S Executive from the 'regular' Panamera Turbo S is an extra 15 cm of legroom at the rear as well as thermal and noise-insulated windows, privacy glazing and a special interior lighting package.
In the U.S, this car costs just over $200,000. As a result, the special edition Turbo S Executive in question could quite comfortably top $250k and become the most expensive Panamera variant offered.
According to Automobile, the special model will be previewed to clients this month.
[Via Automobile Magazine]