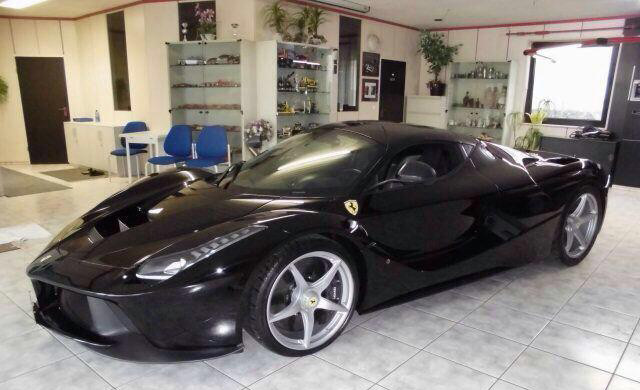 With just 499 units destined for production and only prolific Ferrari collectors offered the chance to own it, the LaFerrari is already a collector's item. As a result, when one hits the used car market, it isn't surprising that the new hybrid hypercar is already demanding pretty hefty premiums.
As a matter of fact, a rare black example is currently up for sale in Dubai for 12.5 million in the local currency. In the U.S, that is the equivalent of $3.4 million! To put that price into perspective, U.S. bound LaFerraris start at around $1.69 million from the factory so it is double the cost.
In case you didn't know, the LaFerrari gets a 6.3 liter V12 which is connected to an electric motor similar to the system on the McLaren P1. The Ferrari F150 V12 has an output of 789 hp at 9000 rpm and 700 Nm at 7000 rpm while its electric motor has a maximum output of 161 hp and 270 Nm of torque. That delivers a total combined power output of 950 hp, allowing the new Ferrari Enzo to do 0-100 km/h in less than 3 seconds, 0-300 km/h in 15 seconds and a top speed in excess of 350 km/h.
[Via Dubizzle]