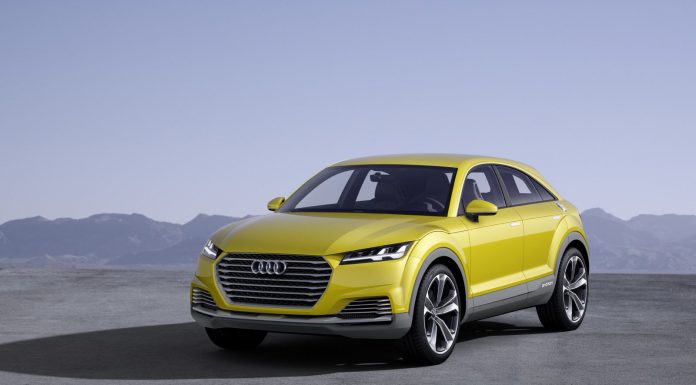 Audi has confirmed that it is currently developing a new body style for the recently revealed 2015 Audi TT.
During the press launch of the new Audi TT in Marbella, Spain, Audi development chief Ulrich Hackenberg announced the news. It remains unclear just what this new body style will be but all indications point towards it being a production-spec version of the Audi TT Offroad Concept introduced earlier in the year.
According to market researcher HIS Automotive, Audi will have to expand the existing TT family with annual sales of the new TT and TT Roadster unlikely to reach more than 42,000 units. By comparison, 56,000 units of the existing car are produced.
As a reminder, the Audi TT Offroad Concept forms part of the Audi e-Tron range. As such it features a plug-in hybrid drive unit with two electric motors and a total system output 408 hp and 650 Nm of torque. The Concept was originally intended to preview a potential niche Audi engineers might choose to exploit with the new TT platform. Audi are keen to publicise the remarkable efficiency of the power train which runs on 1.9 litres of fuel per 100 kilometres (123.8 US mpg).
The combustion engine is a 2.0 TFSI four cylinder engine producing 292 hp and 380 Nm of torque. The power is achieved through the use of a large turbocharger. Interestingly, the exhaust manifold is integrated into the cylinder head. A separating clutch links the transverse 2.0 TFSI to a 40 kW 220 Nm electric motor.
As a result, the original show car accelerates from 0 to 100 km/h in 5.2 seconds and reaches an electronically governed top speed of 250 km/h (155.3 mph) without any trouble. It is able to travel 50 kilometres solely on electric power and with zero emissions. Audi states the total range as being up to 880 kilometres (546.8 miles).
The Audi TT Offroad Concept is based on the modular transverse matrix (MQB). It uses an ASF (Audi Space Frame) constructed from a hybrid of steel and aluminum components. Its dimensions are similar to the Audi Q3 but it is 8 centimeters (3.2 in) lower, making it sportier in character. The exterior colour is Sonora Yellow.
[Via Auto News]