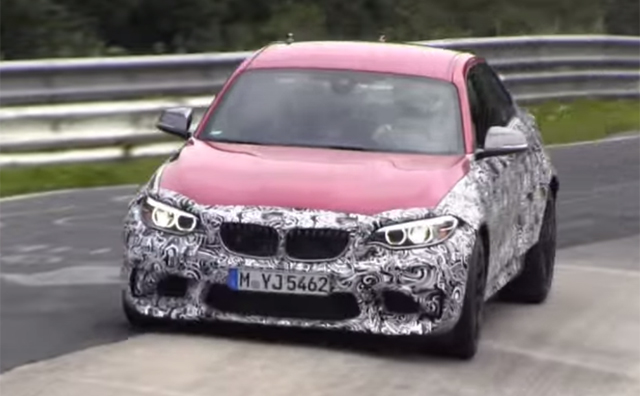 An exciting new video of a red 2016 BMW M2 prototype hitting the Nurburgring at full speed has been released with the car certainly promising to be a real cheaper alternative to the BMW M4 Coupe.
From an engine standpoint, it was initially rumoured a high-performance four-cylinder was in the works. However, it has since been confirmed that the BMW M2 will feature the same 3.0-litre turbocharged six-cylinder engine utilised by the current range-topping M235i. Whereas the BMW M235i delivers 322 hp, the BMW M2 should deliver around 380 hp and perfectly bridge the gap to the M3 and M4.
[youtube]https://www.youtube.com/watch?v=DTw6NRbc9hE[/youtube]
From a visual standpoint, the 2016 BMW M2 will inevitably feature a more aggressive front bumper inspired by the new M3 and M4 with prominent air intakes and an aggressive central front splitter. Flared wheel arches will also be featured as well as a light carbon fibre roof and wider wheels and tyres. At the rear, expect to find a subtle bootlid spoiler as well as BMW Ms quad-exhaust pipe layout and a more sporty bumper.
The following prototype displays all of these new design elements in some way while also being fitted with evidently larger and more potent brakes and calipers. In the cabin, the 2016 BMW M2 will come standard with a host of new features possibly including lightened racing seats