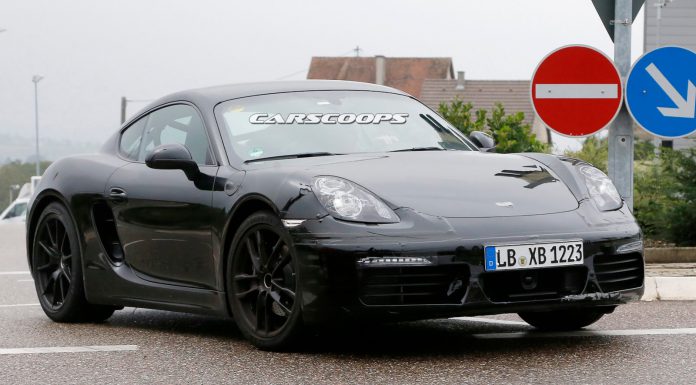 A prototype for the facelifted 2016 Porsche Cayman has been spied testing with minimal camouflage ahead of a likely launch in the next 12 months.
As the following prototype shows, the 2016 Porsche Cayman will adopt new headlights, tweaked LED daytime running lights as well as a modified front bumper. While not present on this prototype, we expected some minor tweaks to the taillights as the rear bumper and diffuser area.
The most exciting variant of the facelifted Porsche Cayman is set to be the Cayman GT4. First off, the 2015 Porsche Cayman GT4 will be the first turbocharged Cayman ever and will likely utilise the firm's 3.8-litre twin-turbocharged boxer six engine tuned to deliver a truly exceptional 450 hp!
From a visual standpoint, the Cayman GT4 will also be an epic improvement over the current car. It will utilise a modified front bumper with a new splitter and larger air intakes as well as new wheels, a functional rear diffuser and a huge rear wing. It will also utilise a new dual exhaust system and feature beefed up brakes and hardcore track-tuned suspension.
Alongside the new visual and aerodynamic features like the large rear wing and front splitter, we expect the Cayman GT4 to feature a stripped-down interior to save on weight. When combined with a powerplant very likely to push out in the range of 450 hp, the Porsche Cayman GT4 could quite easily rival the thrills of the latest-generation 911 GT3!
[Via Carscoops]